The Instant Pot seems to be all the rage these days. Everyone is talking about this kitchen appliance as if it is some miracle. In this Instant Pot DUO60 review including my issues with it.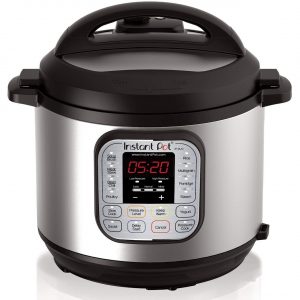 The Instant Pot DUO60 is praised by many as a miracle appliance. This praise is with good reason. The Instant Pot is an electric pressure cooker that can also saute, simmer, slow cook and keep warm. With the pressure setting, you can cook most foods significantly faster. I have cooked pots of dried beans into amazing chili in an hour total. This truly is a miracle compared to pre-soaking beans and then cooking them all day.
Some foods do not cook faster in the Instant Pot DUO60. Boiled eggs are a food that takes longer to cook in it. Eggs that have been boiled by pressure cooking peel significantly easier. I have never had luck with adding baking soda or lettings eggs age before boiling to let me peel eggs easier. Instant Pot boiled eggs peel easily. It is worth the increase in cook time for perfectly peeled eggs.
The Instant Pot is AMAZING for cooking beans. Cooking beans used to be an all day process. Now it's about an hour with coming up to pressure and releasing the pressure. So much time saved vs cooking them all day. Plus cooking beans in the instant pot is consistent. You set the time, and you know that they'll come out the same way each time you cook them.
There are some issues with the Instant Pot DUO60. The biggest issue to me is that there is only one cooking pot that comes with it. I have purchased a second pot so that I can have something cooked and in the fridge and another thing cooking. Another issue I have with the it is that the sealing ring retains smells. Cumin is an especially big culprit. After making a pot of chili my lid's sealing ring will smell like cumin until I take the ring out and deodorize it.
Overall, I love my Instant Pot DUO60. Beans, soups and meats cook up astonishingly fast. Boiled eggs peel perfectly when pressure cooked in it. The problems with the Instant Pot are easily overwhelmed by how convenient this appliance is. Every household should have one of these miracle appliances.