I recently got a Roku Streaming Stick Plus. I have been using the Streaming Stick for a while now. This device is a very good streaming media player. Are you considering getting a Roku? Continue reading this Roku Streaming Stick review to find out more.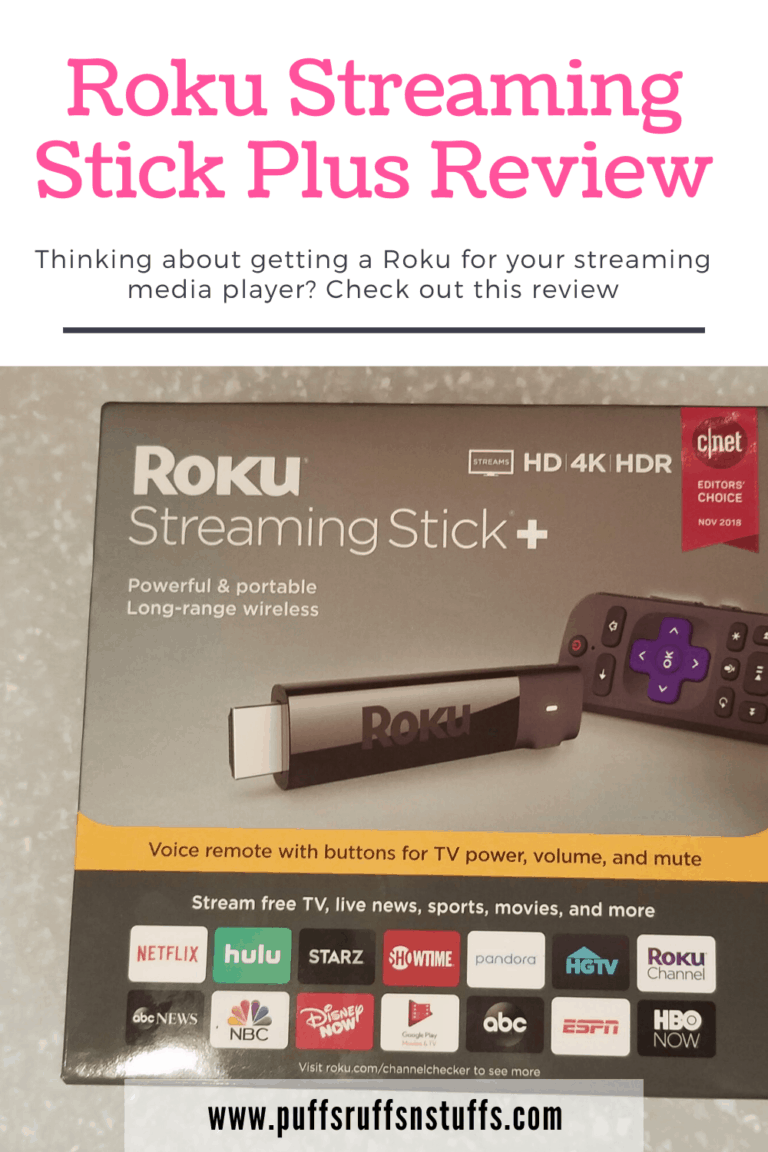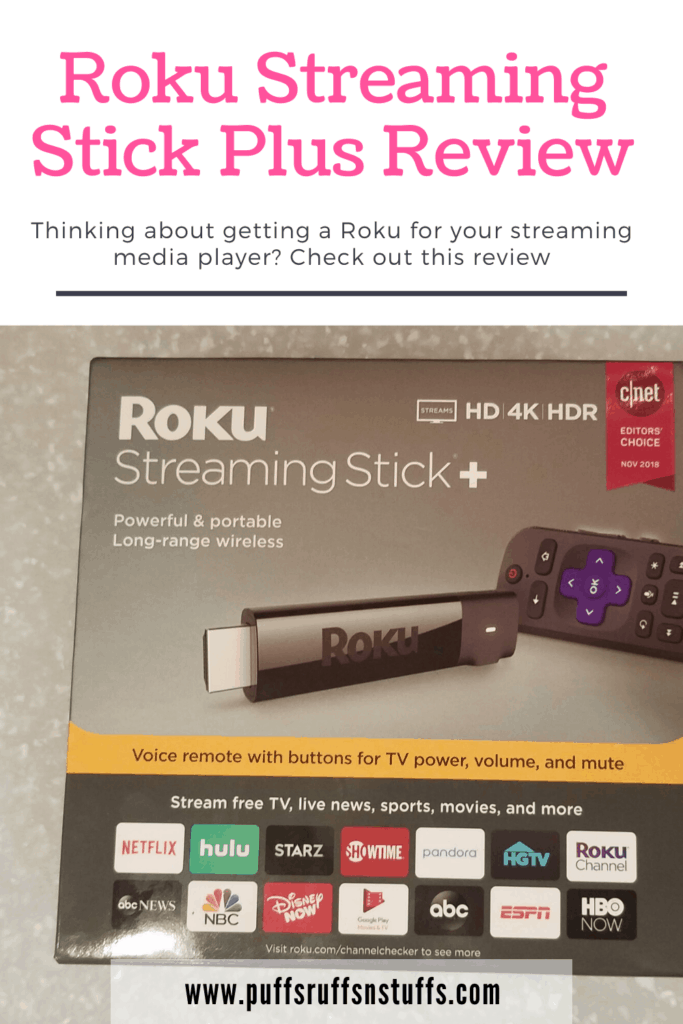 If you're in a hurry (or just curious!) –
The Roku Streaming Stick Plus (found on Amazon here) is a very reliable media streaming device. I also have a Roku Express (you can read the review for it here). The Streaming Stick is just as dependable as the Express model. In this Roku streaming stick review you'll read about some of the pros and cons of the Roku Streaming stick.
What is the Roku Stick?
The Roku Stick is a media streaming device that is created by Roku. Media streaming devices are pieces of hardware that you can plug into your TV in order to watch shows from services on the internet. Having a media streaming device like the Roku stick connected to your TV can let you watch streaming services like Disney+, Hulu, Netflix, or Amazon Prime Video. It all depends on what streaming media services you have and which you setup on your Roku.
What are the Roku Streaming Stick Plus's specs?
The Roku Streaming stick uses HDMI to connect to your TV (so make sure you have a free HDMI plug if you are buying one).
It is powered by USB to micro USB, so make sure you have a spot to plug the USB cord into. Something to be aware of is that your Roku may not come with a wall adapter for the USB power cable. I had one laying around, but that is something to keep in mind that you might need to buy. You can try plugging it into the USB port on your TV, some TV's will be able to power the Roku this way. My TV was not able to, and so I had to plug it into the wall.
CPU: ARM Cortex A53
RAM: 1 GB
Graphics API: OpenGL ES 2.0
Max Video Resolution: 4K60fps, HDR video
Max UI Resolution: 1080p
HDR video Support with HDR10
Review for the Roku Streaming Stick Plus
The Roku Streaming Stick has a few features that the Roku Express lacks, like TV audio control and TV power control. These functions are easy to setup when you first configure the Roku. You wouldn't think that having audio and power control in a Roku remote is a big thing, until you have it. This feature is super amazing – it means I only need one remote to control my TV.
I got my Roku Streaming Stick Plus for $39. That was on sale, so if you see it priced similarly, grab it!
The Streaming Stick does not require line of sight from the remote to the Roku box. This is a very nice change from the Express where line of sight with the remote is required. The remote will need line of sight to the TV to control volume and power if you are using those features. Being able to stop or pause a show while you're leaving the room and not facing the TV is super nice.
I really like that the Roku Streaming Stick Plus remote does not require line of sight. It means I can be running on a treadmill or just running around the house and I don't have to worry about 'aiming' at the control box to pause a show.
The Roku Streaming Stick Plus also comes with a voice search compatible remote. This means that you can just speak into your remote to search for a show (no more trying to spell it out). A list of shows will display on screen that match your search. You pick the show you want to watch from the list, and you are watching your show.
Something to keep in mind with these streaming media players is that they need to connect to other services for the best results. We have our Roku Streaming Stick hooked up to Netflix, Amazon, and many other channels. There are also free streaming channels available such as the Roku Channel, PBS and local news.
How does the Roku Compare to the Chromecast?
In addition to having (multiple) Roku devices, I also have multiple Chromecast streaming devices. I have one of the older, first generation Chromecasts and a new Chromecast Ultra. In general I prefer to use the Roku instead of the Chromecast. The Chromecast has a definite spot in my smart home – it is great being able to display my cell phone screen or my computer screen on my TV easily. However for watching streaming media the Roku devices win hands down.
How hard is it to setup a Roku?
I have setup multiple Roku devices now. Each setup is pretty darn simple and only takes a few minutes. To setup a Roku, you first plug the device in. Change your TV over to the Roku's input channel if needed. Your Roku will walk you through the rest of the setup process. It might take you a few more minutes to set it up if you need to create an account. Adding a new Roku to an existing account only takes a few minutes. Adding this latest Roku Streaming Stick Plus probably took me about 3 minutes total.
Roku Express Review Summary
The Roku Streaming Stick and Roku Express are both very nice streaming media players. They allow us to use multiple different streaming media services with one simple device. If you are looking for a streaming media player to buy, you should purchase a Roku Streaming Media Stick.
Related Posts…
Is the Roku Streaming Stick Plus not for you? Check out these other related posts…