Kids seem to go through life accumulating more and more toys. Toys slowly take over the house. The living room, their room, the bathroom… toys are everywhere. I recently put together a quick storage solution for bath toys. After gathering materials, it took less than 5 minutes to add bath toy storage. This is such a super easy DIY bath toy organizer. It has had a huge impact on quality of life around here. In this post I will be sharing what I do to store toys between baths.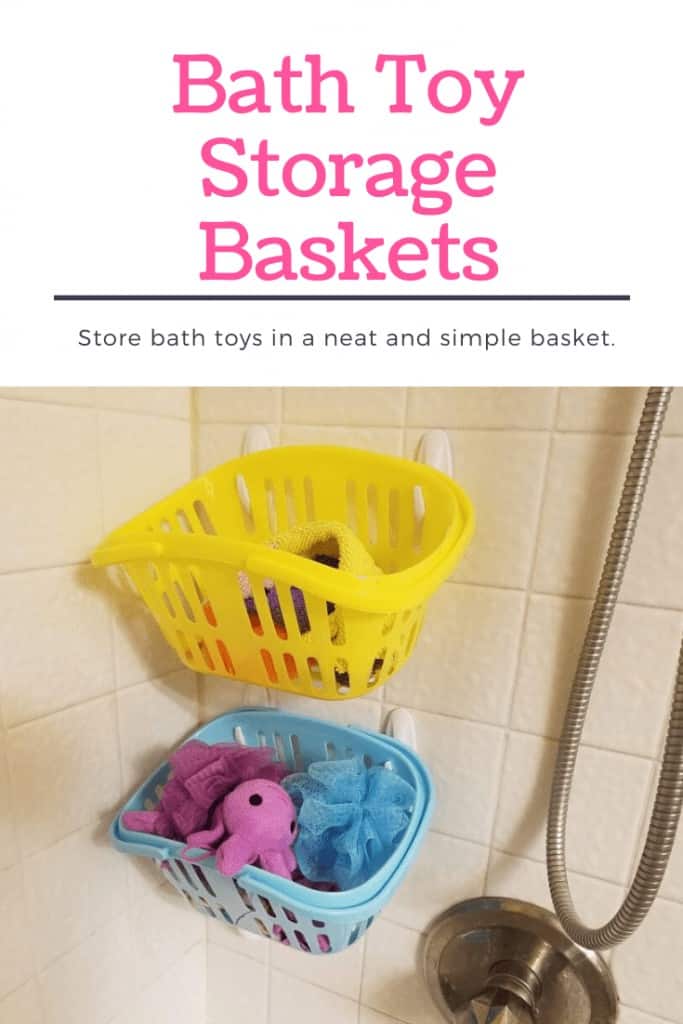 Why use bath toy baskets?
Is your bathtub filled up with bath toys? My bathroom was overrun with bath toys. Boats and fish and squirting toys were everywhere. You could not take a shower without first emptying the tub of bath toys. It is super frustrating to want to take a quick shower in the morning, and have to empty the tub out first or shower with a ton of toys at your feet. I added this quick solution to my bathroom to add some much needed kids bath toy storage. Now all of the toys go into the storage baskets after bath time and my shower is toy free.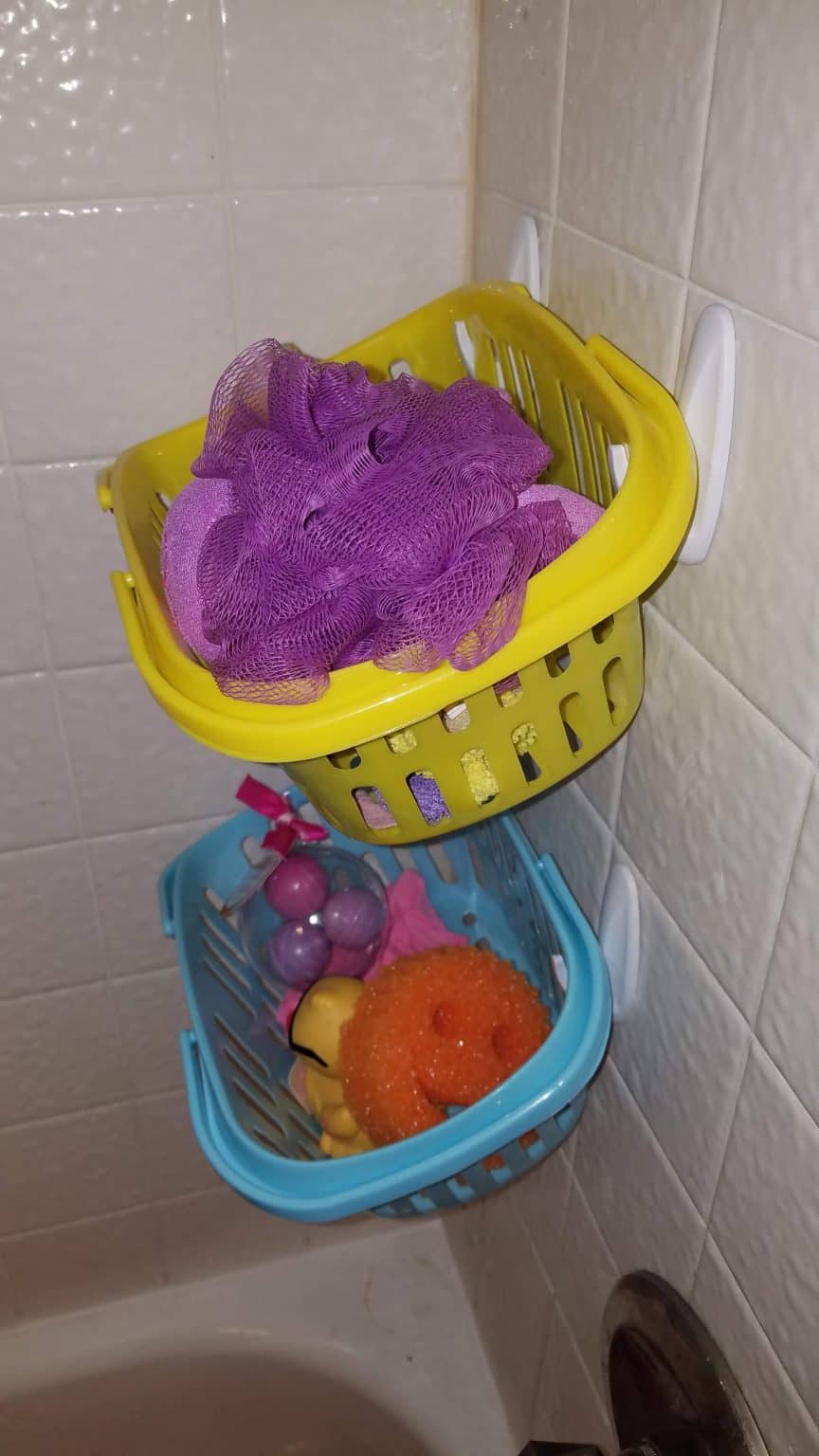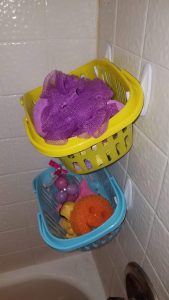 Don't want to make your own bath toy storage baskets? Check out my post here on the best bath toy storage orgainzers.
What you'll need
This project is super simple. You'll only need a couple of materials for it:
Dollar store baskets (I grabbed Easter baskets, but any plastic basket will work)
Command hooks like these
I grabbed the baskets from the Dollar Store. The Dollar Store is amazing for quick hacks like this. There are all sorts of items that a little creativity can put to work. I found my baskets around Easter, so you may have to look around for something similar if they are out of season for you. I also used some of the larger Command Hooks to use to stick to the tile walls of the shower surround. Two Command Hooks per basket are enough to securely stick them to the wall.
How to make bath toy baskets
First make sure that your tub surround is clean. The Command Hook adhesive will not stick well to a dirty surface. You need to make sure that any soap residue or scum is cleaned off in order for the baskets to stick well. Once you have it clean, make sure that your tub wall is dry too! You need a dry surface for the Command Hooks to stick to.
After your shower is clean, put the hooks together with the adhesive stuck to them. Remove the paper from the side of the adhesive that will be facing the wall. Place the command hooks on their sides so that the adhesive isn't touching anything. You are just prepping the hooks to be stuck to the wall, not actually sticking them to anything yet.
Grab your first basket, and decide where you want it to sit in the shower. I chose to put multiple baskets in the corner of the shower, where water draining out of the toys will go into the tub and not on my floor. I also put the toy storage baskets away from the side of the tub that you get in on. Having the kids bath toy storage near the far wall makes it easier to get into the tub, and makes it less likely that you will end up with the toys being knocked out.
After you have decided where to put your baskets, it is time to install the mounting hooks. Grab the first hook, and hook it into the basket. Place the basket where you would like it to be mounted in the shower. The command hook should be up against the wall in position to hold your basket. Press the Command Hook firmly against the wall. Grab your second Command Hook for the other side of the basket. Hook the second side of the basket, and use the hook's location to mount it to the wall securely.
Congratulations! You now have one bath toy organizer basket in place.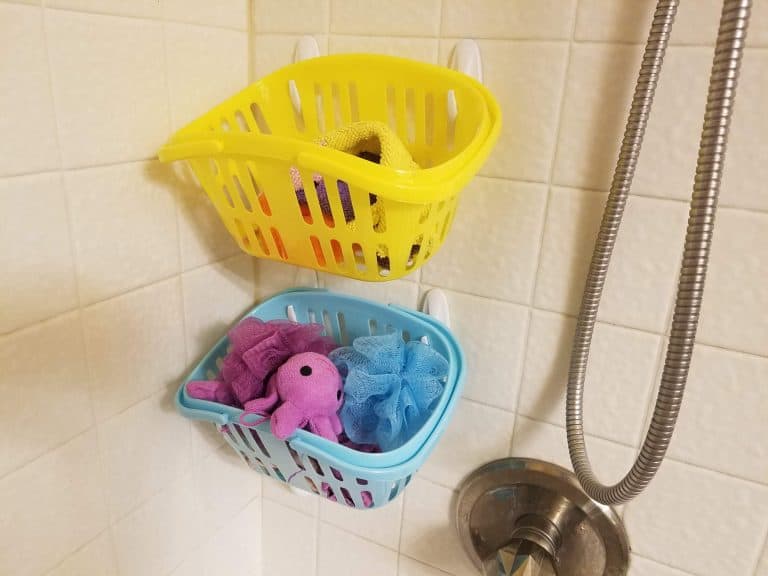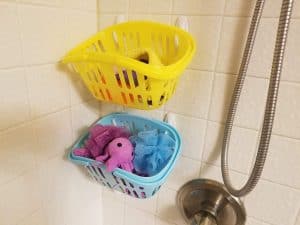 Repeat these steps for each basket you are mounting to your shower walls. Load the baskets up with toys, and revel in your newly found bath toy storage.
In closing…
These storage baskets for bath toys are super nice. Years later I still have them in place. These cheap Dollar Store baskets and their Command Hooks have become a long term part of the house. They keep all of the bath toys out of the shower quite nicely.
Something else that is super nice about using Command Hooks for these bathroom toy storage baskets is that they are easily removable. Command Hooks are known for their ability to be removed from most any surface. You remove the hook, pull the tape… and no more hook. Using Command Hooks to attach the bath toy organizer baskets means that you can do this now and remove it later easily. These bath toy holders won't damage the tile or tub surround – this makes them even safe to use in a rental!
For another toy storage hack, check out my post on storing kids toys.