Do you need a bath toy holder?
Are bath toys taking over your bathroom? Are you not able to use the tub without stepping on a rubber duck or having to clean out tons of toys beforehand? If so, you really need a bath toy organizer. I was dealing with the toys all over the tub and not being able to shower without rubber duckies and boats being everywhere. I really, really needed some way to get the toys out of the tub, to store them compactly, and to let the toys dry out between baths. I ended up DIY'ing a kids bath toy storage solution, but there are also many great options for storing bath toys that you can buy online.
If you're in a hurry (or just curious!) –
✅ This across tub bath toy organizer is Amazon's favorite
Getting a kids bath toy storage solution was one of those things that improve your quality of life so much, you wonder why you didn't get it earlier. Once you have one, you realize how much having bath toys everywhere sucked. Once you have a way to keep bath toys tidy, you wonder why you didn't do this ages ago, and why no one ever told you.
This is me telling you – get a bath toy holder for storing bath toys.
It will change your life.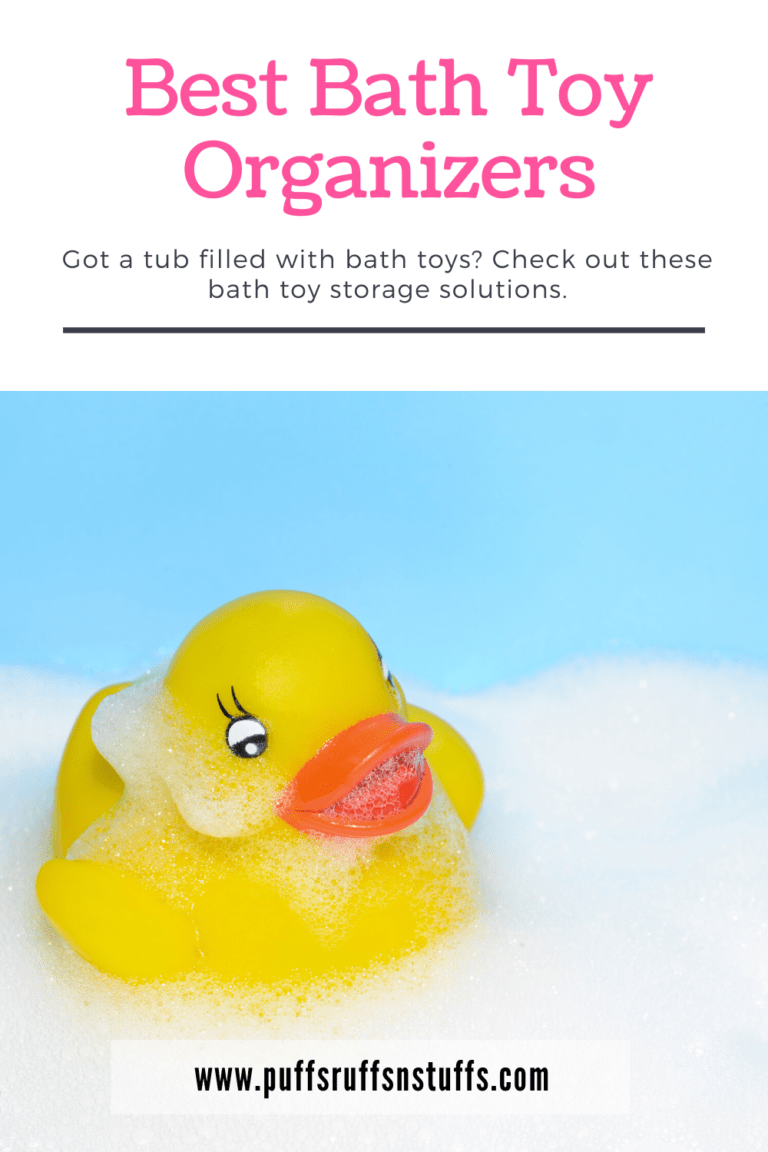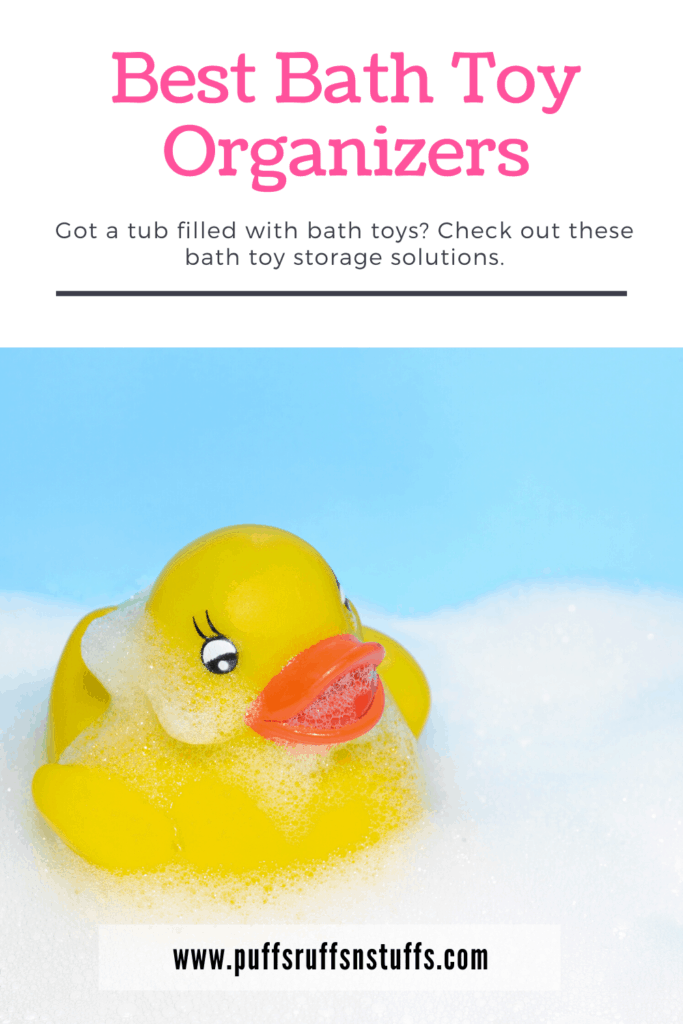 The best bath toy organizers
So, you need a way to keep bath toys tidy, and you've decided to get a bath toy holder. Which one is the best bath toy organizer? Here are some of my favorite bath toy holders. These toy storage options are all really great. They range from DIY storage options, to Amazon's top rated storage organizer for bath toys.
Cheap DIY Bath Toy Storage Baskets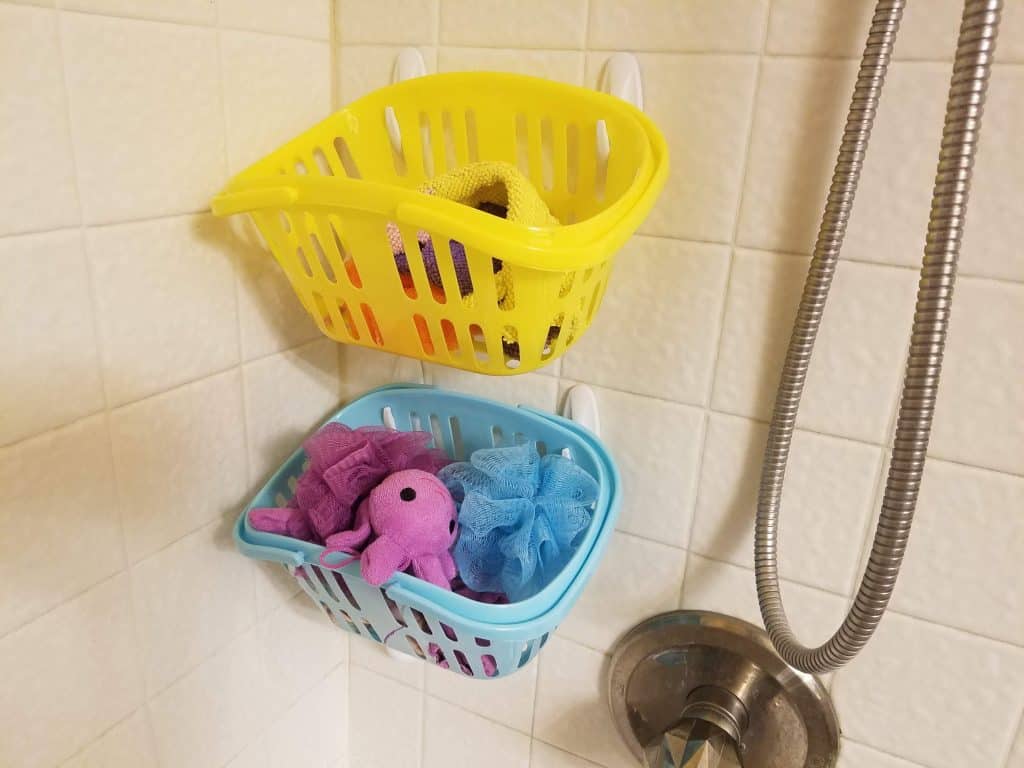 First, there's my DIY bath toy organizer. This thing was super simple to throw together. I already had the Command Hooks, so I just needed some Dollar store baskets. Can you say bath toy storage for $4? I love this cheap, DIY bath toy holder solution. It seriously removed a huge hassle from my life – having to clear out the bath toys when I wanted to take a shower.
Amazon's Choice – Across tub bath toy organizer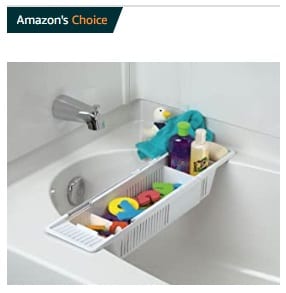 Amazon's pick for the best is this Bath Toy Storage Basket. It sits across your tub, like the wooden bubble bath trays that are so popular these days. It allows you to have your toys in a basket that hangs over the middle of the tub. This way, when the bath toys are drying out they do not drip all over your floor and make a mess. It also has places for soap, shampoo, bubble bath – anything else you need to store. This bath toy organizer is a nice solution because it can grow with the kid. It is not themed, but basic white. So as your kid gets older it can stop holding bath toys and start holding other things – books, loofahs, or anything else you need held.
Amazon highly rated – Mesh bath toy net
This mesh bath toy net is super highly rated on Amazon – check it out! It's no wonder why this mesh bath toy bag has such high ratings and so many reviews. There are separate pockets for storing smaller items – bottles of tear free shampoo, sponges and wash cloths, bubble bath. It has one big pocket at the bottom for all of the toys. This way your kids can put their bath toys in the mesh bag when they are done bathing and they do not need to stand up. This helps to keep them safe.
This mesh bath toy bag comes with 4 suction cups with hooks to mount it to the bath tub wall. Two of these are for the bath toy bag, the other two can be used to hang something else in the tub. I use a suction cup hook to hang my loofah, this lets it drain the water out easier. This mesh bag for bath toys also comes with 36 foam letters and numbers. So if you are looking for a bath toy kit to get started with, this would be a good idea.
Bath toy storage with scoop
These next two products are both very similar, so I'm including them together. These are the Boon Frog Pod Bath Toy Storage Scoop and the Munchkin Scoop Drain and Store Bath Toy Organizer. Both of these are similarly rated and priced. Like I said, these two are very similar – they both mount to the wall for bath toy storage. Both of these are designed so that you can scoop the toys out of the water without getting all wet. They also make it more fun for the kids to scoop their own toys out of the water. These both have a handle on the back, and holes in the bottom for the water to drain out.
The main difference between these two (other than looks) is that the Boon Frog has the appearance of a frog. The body of the frog is the scoop, and it detaches from the wall mount – where the feet are. This means that you can hang things like bath poofs, loofahs or washcloths off of the frog's toes and they will stay hanging on the wall when you need to scoop some toys out of the water.
In summary
If you have bath toys, you need a way to store those bath toys or you'll just have a mess. Get one of these bath toy storage systems and get the bath toys tidy. These bath toy storage systems are all excellent ideas:
This DIY bath toy organizer from Dollar Store baskets
This bath toy organizer is Amazon's choice
This mesh bath toy net is super highly rated on Amazon and comes with toys
These bath toy storage scoops are cute and functional
Related Posts