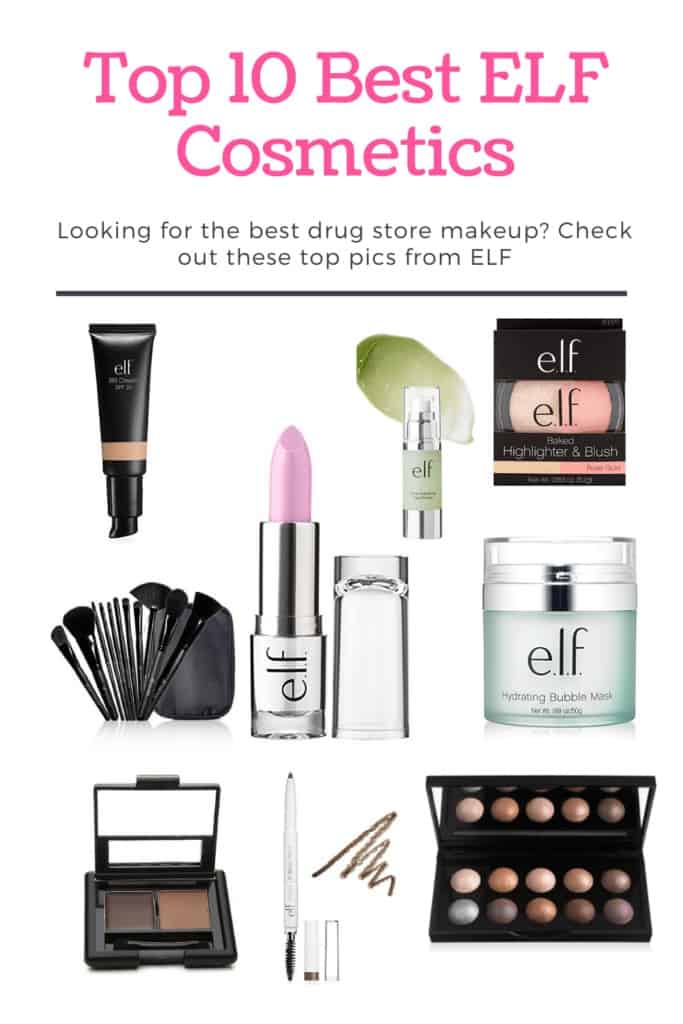 e.l.f cosmetics is a relatively new budget cosmetic brand. I discovered elf cosmetics about two years ago. elf has some of my favorite cosmetics. In this post, I'll be sharing the best elf cosmetics that I have found.
BB Cream – this BB Cream is my absolute favorite. I use this daily for a little bit of concealer and a little bit of extra sun block all in one. The color of this matches my skin tone perfectly. This BB Cream blends easily and looks natural once it has been applied.
Tone Correcting Face Primer – the elf Cosmetics Tone Correcting Face Primer is one of my must haves. I use this daily with the BB Cream. If your face has redness to it, applying this below your makeup will help get rid of it. I love how silky smooth the Tone Correcting Face Primer goes on.
Hydrating Bubble Mask – the elf Cosmetics Hydrating Bubble Mask is a product that is just fun to use. I use this mask weekly, after cleaning my face. You apply the clear gel to damp skin, and let it sit for 10 to 15 minutes. The Hydrating Bubble Mask will live up to it's name in this time, bubbling up all over your face. After wiping it off, my face always feels hydrated and refreshed.
Rose Gold Baked Highlighter & Blush – I love the Rose Gold Baked Highlighter & Blush combo. The colors in this apply smoothly and easily. They give just the right amount of shimmer to stand out, without looking like you rolled in the glitter. I even like using the Rose Gold Baked Highlighter and Blush combo on my eyes occasionally.
Clay Eyeshadow Palette – the Clay Eyeshadow Palette is my daily eyeshadow color choice. It comes with extra 'base' color and a small selection of accent colors. The Clay Eyeshadow Palette is great at staying put all day long. Just make sure you have eyeshadow brushes for applying this, there is not one included in the kit.
Eyebrow Kit – I use the elf Cosmetics Eyebrow Kit when I have a bit more time to do my makeup. This kit will help fill in your eyebrows and give them a more dramatic look. I love the gel and powder in the Eyebrow Kit that can be combined to give a more realistic look than a monotone pencil.
Essential Instant Lift Brow Pencil – I picked up the Essential Instant Lift Brow Pencil on a whim one day. I was hoping for a faster way to add some more color and fullness to my eyebrows for the 'low key' makeup days. The Essential Instant Lift Brow Pencil fit the bill nicely. The color distributes smoothly and easily, and the spoolie end helps smooth it out and blend it with your eyebrows for a more natural look.
Gotta Glow Lip Tint – the Gotta Glow Lip Tint is just plain fun. This lip tint changes color based on the ph of your lips. This means that each person has their own, unique color. It is amazing to put this on and watch it slowly change to your own personal color. The Gotta Glow Lip Tint also feels and 'smells' amazing on.
11 Piece Studio Makeup Brush Collection – I picked up this 11 piece brush set recently because my current brushes were getting a bit worn out. I like the variety in this 11 piece brush set. They have been holding up well, and feel amazing against my face when I am applying makeup.
Baked Eyeshadow Palette – I love having this baked eyeshadow palette for when I have more time to do my makeup. The colors blend very smoothly and stay for a long time. This baked eyeshadow palette has 10 different colors so you can mix and match to suit your mood.