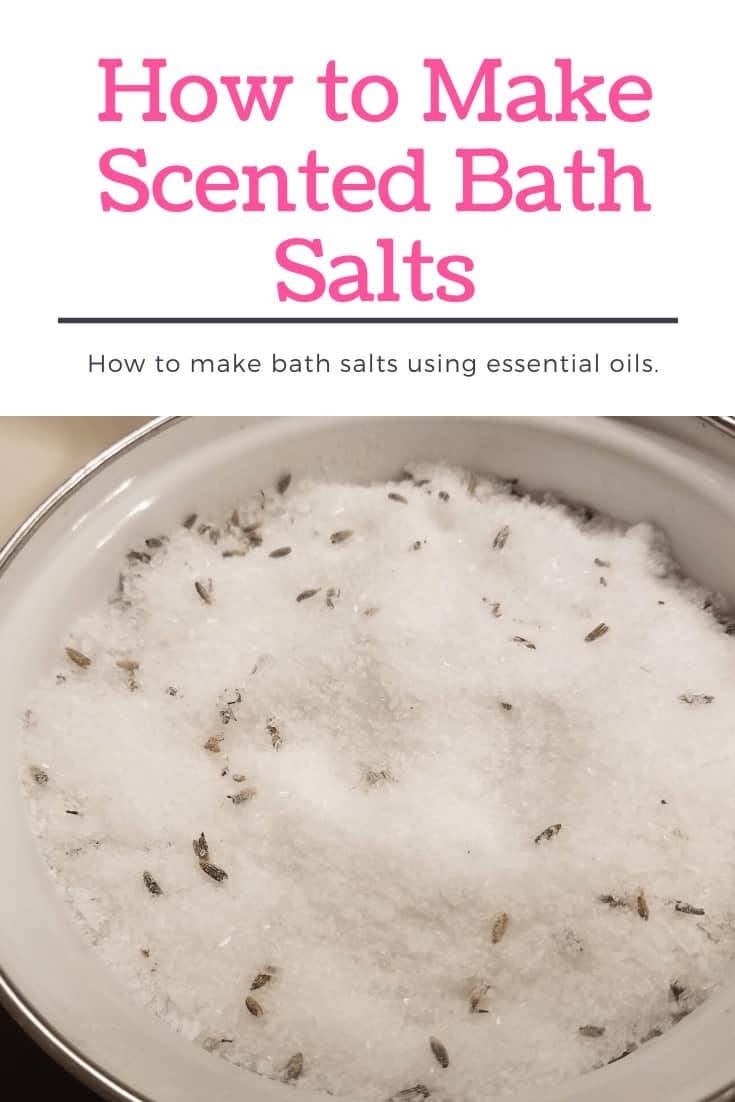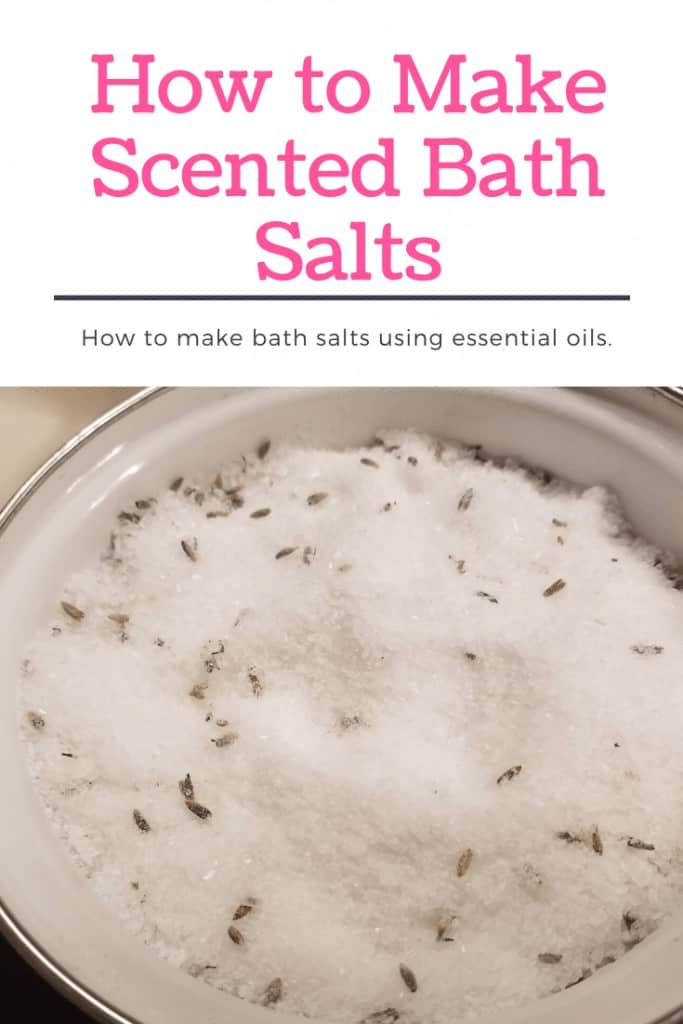 Scented bath salts are amazing. They can take a normal bath and turn it into a luxurious treat. Custom bath salts can also make excellent gifts to friends and family. Scented bath salts can be quite expensive to purchase, but they are easy to make. In this post, I will walk you through creating custom scented bath salts so you can enjoy more luxurious baths.

If you're in a hurry for some nice bath salts (or just curious!) –
There are some pretty amazing bath salts and epsom salts available to be purchased. Dr. Teal's Soothe & Sleep with Lavendar is a good choice for store bought epsom salts. For a truly luxurious treat for yourself or others, you can make scented bath salts that smell and look amazing.
Gather your Ingredients for making scented bath salts –
Moisturizing Oils – Jojoba or Sweet Almond
Container for Storing your Scented Bath Salts (I recommend plastic "just in case")
Spoon or stick for stirring
This scented bath salts recipe is pretty easy to do. To make your own, custom scented bath salts you will need a couple of ingredients. First, you will need unscented epsom salts as a base. If you have hard water, you might want to try adding Baking Soda to your bath salts to help the water feel softer. You can also add Himalayan pink salt to your bath salts, or sea salt if you feel you need extra minerals in the water. I personally like sticking to the epsom salts for the magnesium boost.
You will also need some essential oils for your custom scented bath salts. My favorite combo of essential oils for bath salts is lavender and chamomile. This is a great combo for relaxing. Another combo that I could not live without is eucalyptus, peppermint, lavender and rosemary . This combo is amazing for head colds or sinuses.
You can add other things to your bath salts too. I like throwing some dried lavender flowers into my custom bath salts. It makes the home made bath salts feel more luxurious. Other possible additions are jojoba oil or sweet almond oil. About 1 tablespoon of these oils per batch is all you will want. You will also need a container large enough to mix and store your bath salts in. I found a cute enameled pot that I store my bath salts in.
Looking for another luxurious treat that you can make your self? Check out my post on how to make lotion bars.
There are a bunch of different scented bath salts recipes out there. You can use all different proportions of the materials for your bath salts. One common custom bath salt blend is 3 parts epsom salts, 6 parts 'other' salt, 1 part baking soda and about 20 – 30 drops of essential oils. I've seen some recipes online that call for coloring in bath salts. I would shy away from adding coloring unless it was food safe. Even then, go gently with the color unless you want a matching tub. Another thing that I would not add to bath salts are citrus oils or peels. Lemon seems to be commonly used in bath salt recipes online, but lemon essential oil can cause sun sensitivity in skin or even hair bleaching. I would definitely not add lemon to scented bath salts.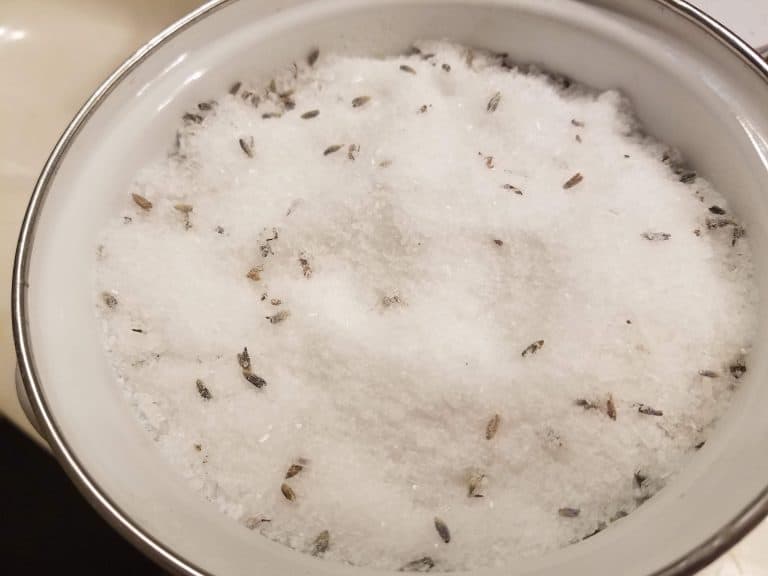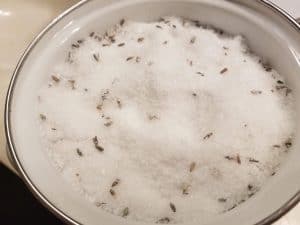 I personally find this blend too 'salty'. In my favorite scented bath salts recipe, I like to use 5 parts epsom salt and 1 part baking soda. Most people these days are magnesium deficient, and I like to boost my magnesium intake however I can. I usually add 20 drops lavender and 10 drops chamomile to this for the relaxing blend. For the sinus care blend, I add 7 drops each of the eucalyptus, peppermint, lavender and rosemary. I add about half a cup of dried lavender flowers each time I make a batch of bath salts. Add all of the ingredients together and stir well.
You can store your bath salts in any sealing container for storage. They should keep well at room temperature, with low humidity. If your container does not seal, your salts will start taking on moisture – and turn into a salt block! So make sure you use a container that seals. You will also want to avoid glass if you are planning on using these salts in a wet environment. Glass gets slippery – and broken glass could be *very* dangerous. Stick to a container that won't shatter if it gets dropped. I store my bath salts in a large aluminum tin, but this acrylic jar could be super cute with colored salts or salts with dried flowers in them.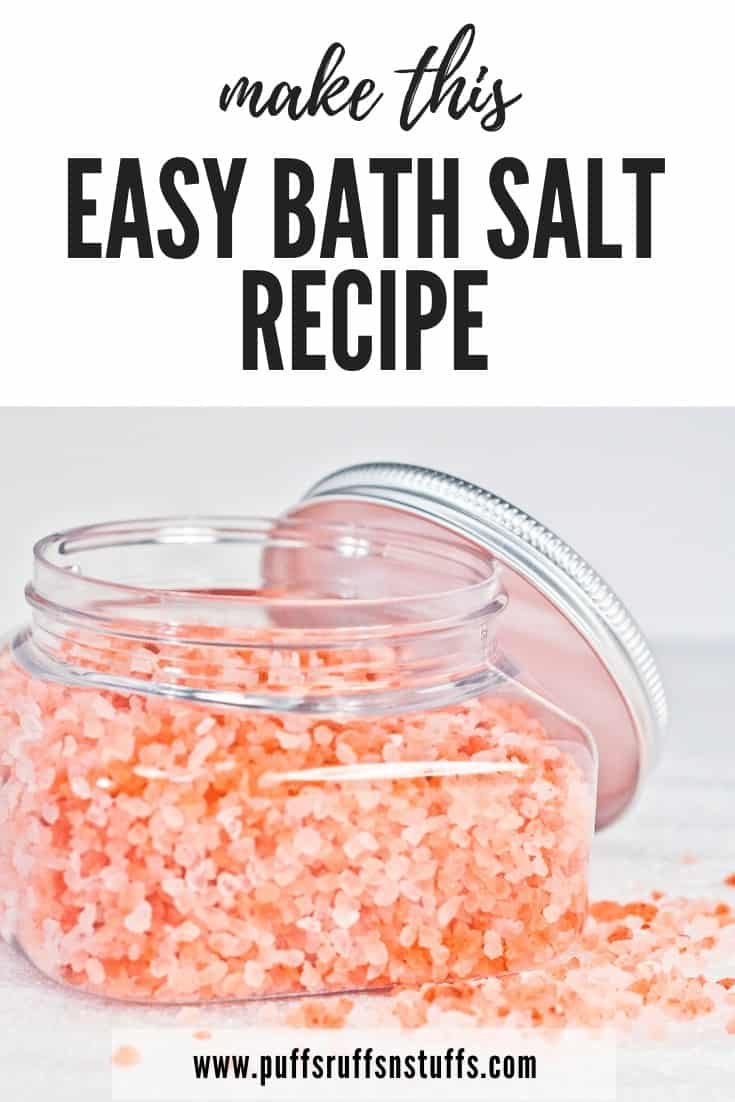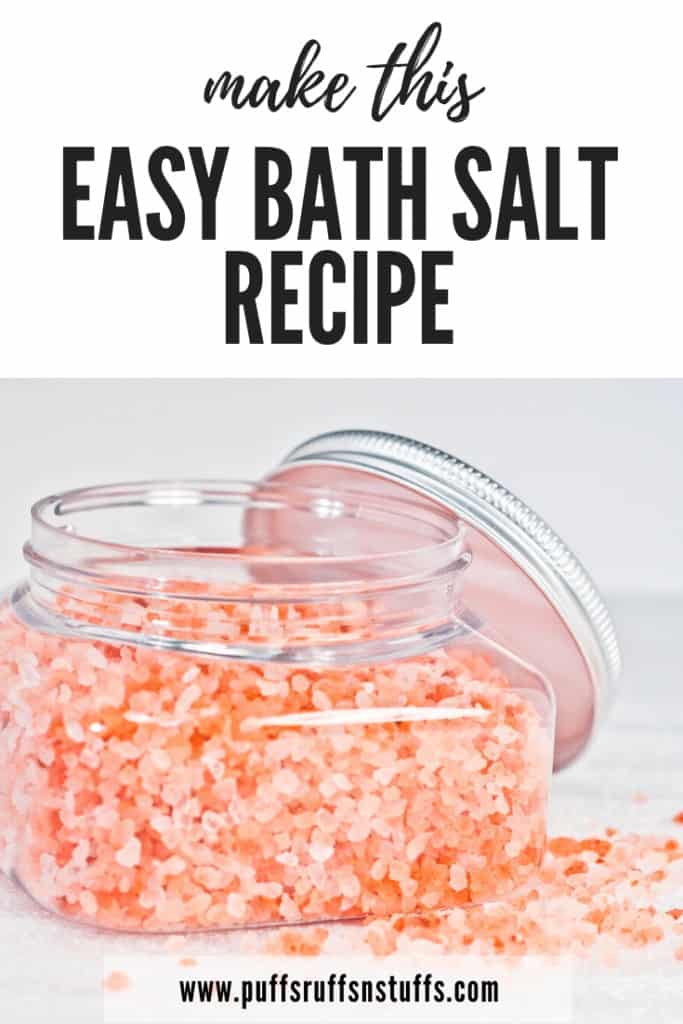 You can make custom scented bath salts quickly and easily at home. With just a few materials you can have custom scented bath salts. These bath salts make any bath feel more luxurious. They are great to have on hand for yourself, or to give away as gifts to friends and family.