Are you tired of always looking for a USB plug to charge your phone? Looking for an easy and cheap way to upgrade your home? Check out this list of the best USB Wall Outlets. Installing a new wall outlet is a quick and easy upgrade to your house. Having a USB wall outlet is such a great DIY home upgrade.
If you're in a hurry (or just curious!) –
✅ This is my preferred USB Electrical Outlet on Amazon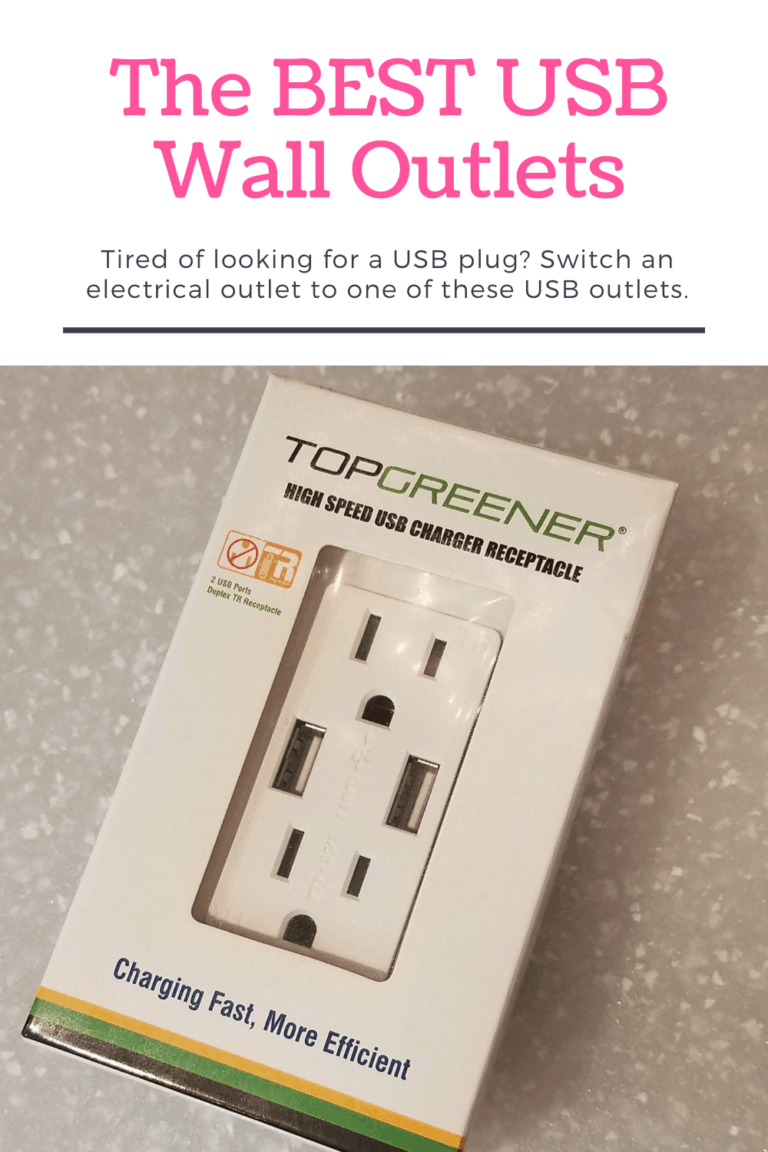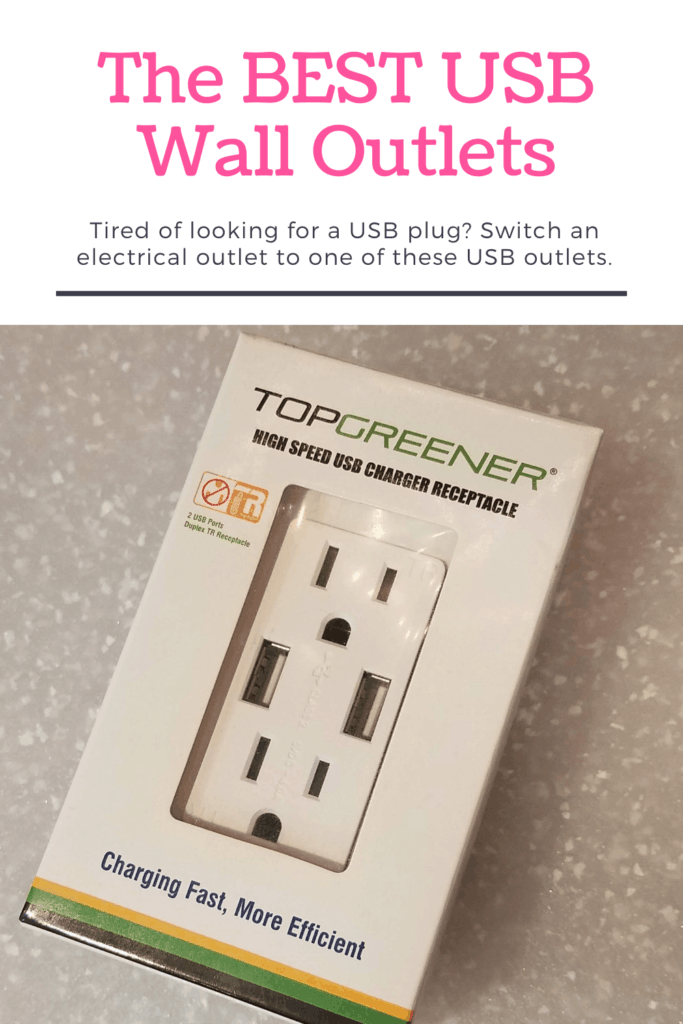 What is a USB Wall Outlet?
What is a USB Wall Outlet? A USB wall outlet is exactly what it sounds like. It is a wall outlet that has USB plugs. These USB plugs can be used to charge a multitude of USB devices. A USB electrical outlet can be used to charge phones, tablets, headsets, ear pods, and more. If it charges from a USB cable, chances are you can use a USB electrical outlet to charge it.
USB electrical outlets replace a standard wall outlet in your home. They're great for adding functionality to a traditional wall outlet. We have one USB outlet in the kitchen and one near our favorite sitting area. Both USB charging outlets are highly used.
Why would you want a USB Wall Outlet?
USB wall outlets are super nice to have. Having a USB electrical outlet makes it so that you don't have to look for a wall charger for your electronics when you need to charge them. You simply plug them straight into the USB outlet on the wall. These days, I have so many wall chargers, but I can never find one when I want to charge my phone. I got tired of this and upgrade my kitchen and favorite chair to have a power outlet with usb ports in them. Adding these power outlets with USB ports is one of the easiest, and best home upgrades that I have made in a while.
Another bonus of having a USB electrical outlet is the number of USB charging ports that they provide. Normally, USB charging plugs can charge one USB device AND they block a standard outlet. A USB electrical outlet often has ports for two standard USB cables and lets you access the standard outlets for powering other devices. I've seen up to four USB charging ports on one wall outlet, but you have to sacrifice your power outlets for this.
USB Wall outlets are worth it. Upgrading my wall outlets really was one of those life changing upgrades.
---
Best USB Wall Outlets:
---
Check out Amazon's list of Best USB Wall Outlets below – many are on sale.
Are USB Wall Outlets safe?
USB wall outlets are as safe as any other wall outlet. It all depends on the wall outlet. When buying a USB Electrical outlet, make sure you choose a quality, well reviewed wall outlet. Not only is your new outlet interacting with main power from the wall, but it is also directly connected to your expensive electronics. For this reason, you will want to ensure that you pick a good quality USB wall outlet. Some safety features that you can look for in a good USB outlet are overcharging protection, charging rate protection, and tamper resistance. These features keep your devices from charging more than they can handle, or charging faster than they can handle. Both over charging and charging too fast can damage your device or it's battery, so preventing this is important. Tamper resistance keeps curious children from messing with your wall outlet.
So yes, USB wall outlets are safe, often safer than other chargers!
Do USB Wall Outlets work?
Do USB wall outlets work? In a word – yes. USB wall outlets work just as well as, if not better than most plug style USB chargers. A lot of the plug style USB chargers aren't calibrated properly. They will under supply or over supply the power that they advertise. This can cause slower charging of devices or potentially faster charging of devices than is safe. Quality electrical outlets with USB ports have chips to automatically detect the amount of power a device can safely charge with. This means your device always gets the optimal amount of power to charge and charges the fastest that it safely can. These wall outlets with USB also have chips to prevent over charging your devices, which can also cause damage.
So yes, USB wall outlets work, often better than other chargers!
What is the Best USB Wall Outlet?
Amazon's choice – TopGreener 3.1A USB Outlet
This is the usb wall outlet Amazon choice suggests, the TopGreener 3.1A USB Outlet, and it's easy to see why. This wall outlet with usb has super high star ratings and tons of reviews! I have an older version of this outlet that I installed, and they are just amazing! These outlets are tamper resistant – which is important if you have curious kids to keep safe. These USB power outlets have 'IntelliChip' technology which means they can automatically determine what the max rate is that your device can charge at, then uses that rate. These can provide up to 3.1 Amp of USB charging. They do NOT support fast charge via USB. An important note about these outlets – they are not made to charge laptops with the USB ports. So if you wanted to charge a laptop with this, you would need to plug it into one of the power outlets, not the USB outlet.
My USB Power Outlets that I love – TopGreener TU2154A
I won't go on about these USB power outlets too much, because I have a longer review about them. This TopGreener USB outlet provides USB charging at 2.4A per port, or a total of 4.0A. This is not a high speed USB wall outlet. This USB power outlet also will not charge a laptop, but it will charge pretty much everything else! I like that these outlets are fire resistant and have overvoltage protection. Battery damage and over charging causes over heating – which leads to devices being permanently damaged or exploding into flames. I like my phone not exploding into flames. This USB power outlet also has the anti-tamper functionality, and comes with TWO wall plates – the traditional screw model and a screwless version. So you have options when it comes to how you want the completed wall outlet to look.
Best USB Wall Outlet for Renters – EchoGear Low Profile Surge Protector + Charger
If you are renting and can't switch out your wall outlets for USB outlets, check out this low profile surge protector and USB charger from EchoGear. This dual USB socket, triple power outlet surge protector is super highly rated on Amazon. This surge protector and USB charger plugs directly into your existing wall outlets. It will extend out of your wall a little bit – just over 1″. This surge protector with USB chargers can provide up to 2.4A of USB power. This has 2 charging ports and 3 electrical outlets on it. I got something similar a couple of years ago before I swapped out my outlets for actual wall outlets with USB power. They were a nice first step and showed how well used having an electrical outlet with USB would be.
USB Electrical Outlets In Bulk – Leviton T5632-W
If you're looking to convert more than a couple of outlets to wall outlets with USB, take a look at the Leviton T5632-W. These USB wall outlets on Amazon come in singles or sets of four, six, eight or 10. You can buy them with the wall plates or without. These USB electrical outlets can provide a combined 3.6A of power delivery via USB. This Leviton USB outlet has two port USB, two port normal power outlets. This USB outlet has both the device charging recognition chip and over current protection to ensure safe charging for your devices.
In Summary
No matter what type of wall outlet with USB you need, this article gives you some of the best options that are available. USB wall outlets are safe, efficient, and an easy DIY home upgrade. We use ours daily, and really love the functionality they provide.
Related Posts