Looking for modern farmhouse living room ideas for decorating? This post details the different elements of a modern farmhouse living room and what you should look for in decor pieces. It also has some great examples of top rated items for modern farmhouse living room decor that you can use in your living room.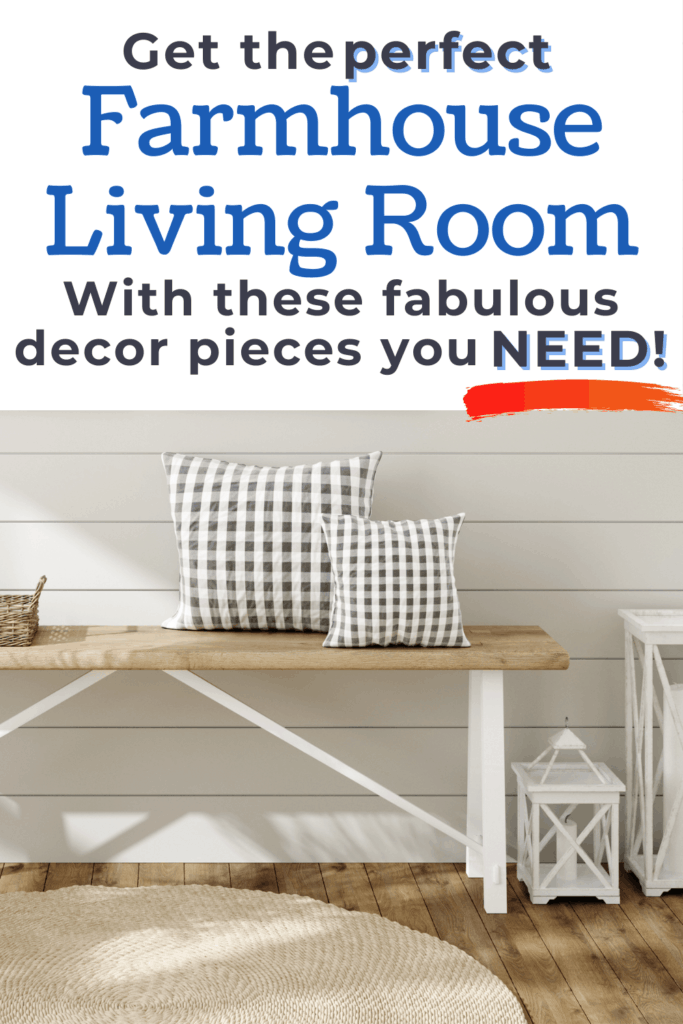 If you're in a hurry (or just curious!) –
✅ Check out these items on Amazon
What is the modern farmhouse decor style?
The modern farmhouse decor style is a way of decorating that invokes the idea of a farmhouse. Decor pieces are more rustic, whimsical, and invoke feelings of living on a farm. It is common to see color schemes in grey and white for a modern farmhouse decor style. Furniture pieces are generally aged to look antique and have unfinished details. Fabric accessories are natural looking fabrics – think cottons and linens. Rustic artwork is common – weathered wood, tin signs and antiques are all common in modern farmhouse decor.
What is a modern farmhouse living room?
A modern farmhouse living room is a living room decorated in the modern farmhouse decor style. In a drastic change to previous living room styles the modern farmhouse living room is intended to look warm and inviting, begging people to come sit in it and use the space. Living room furniture would be grey or white normally, with aged and antique looking accessories. Decorative pillows and soft throw blankets would be present. The modern farmhouse living room is setup with the intent of encouraging togetherness. This space is intended to be used for conversations, playing board games, reading, and other things that encourage family togetherness and bonding.
Table of contents
Modern Farmhouse Living Room Decor Pieces you Need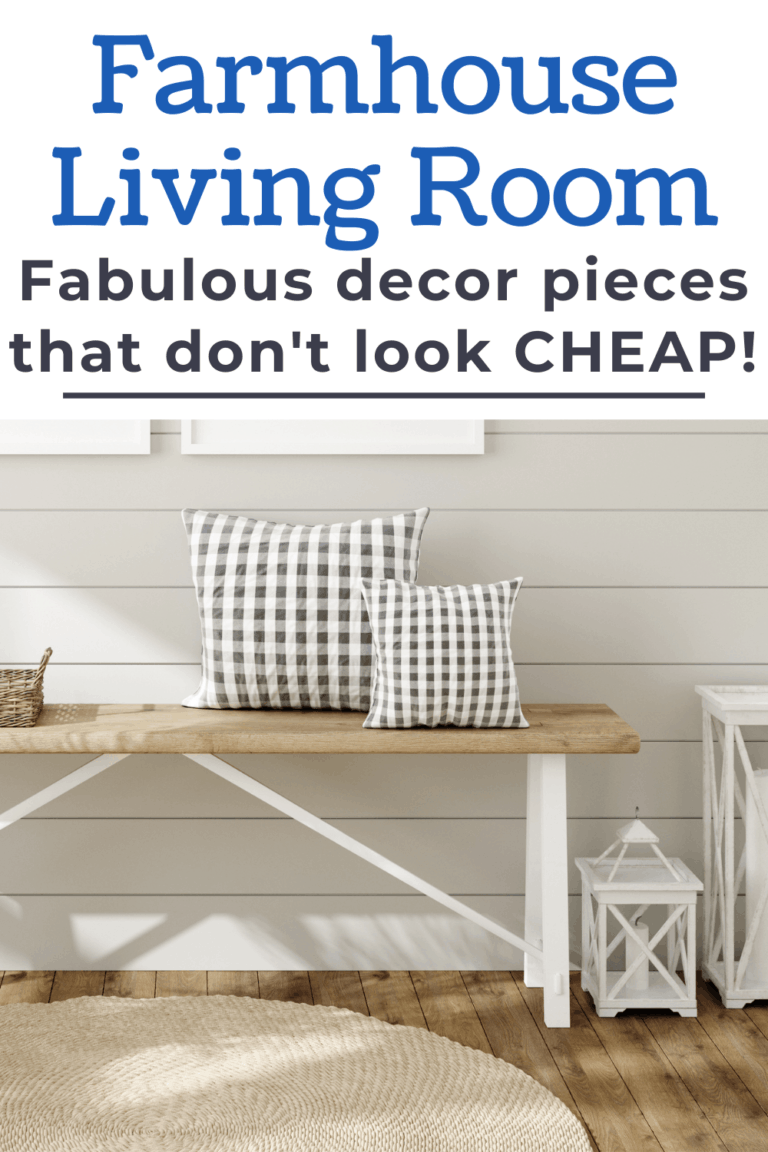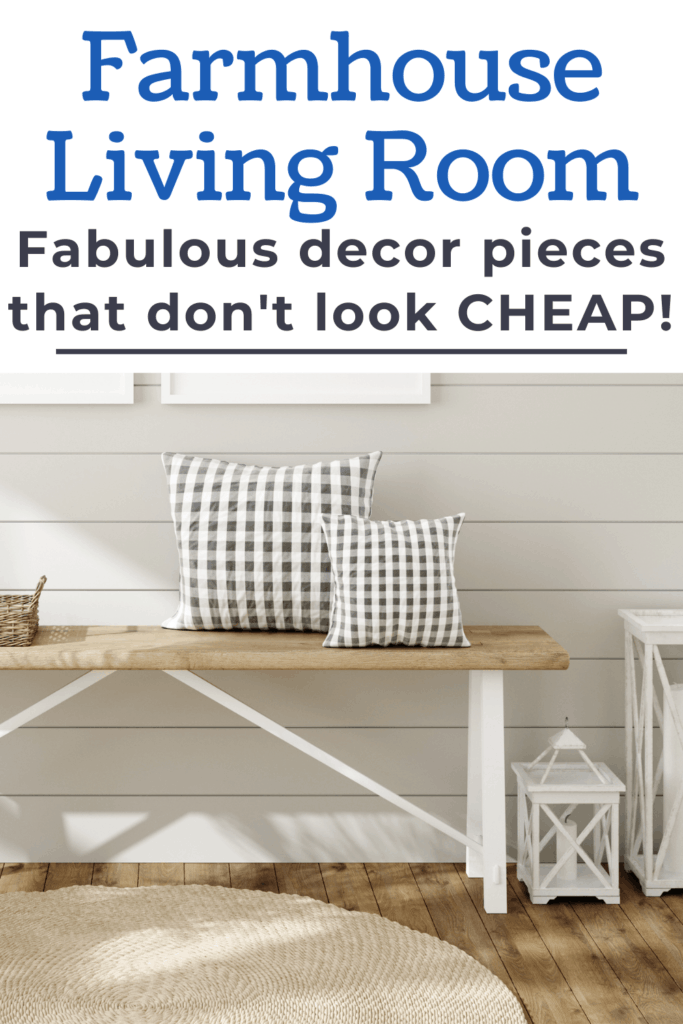 Here are some of the basic modern farmhouse living room decor pieces that you need:
Rustic Window Curtains
Do you have decent curtains or blinds in your living room to block out the light and give you privacy? If not, you will really want to take a look at what you are using and make sure they are well kept and serving your needs. Curtains for farmhouse decor are usually light in color. White and cream are both very common to find in farmhouse curtains. Occasionally, you will see a house going bolder with a olive green, dusty blue, or grey. Two inch plantation shutters are also quite common to see in farmhouse decor.
These solid color window curtains have a delicate lace border. They come with a rod pocket to make installation easy – simply side the curtain rod through the pocket. These curtains are 84″ x 54″. 100% cotton, dry clean recommended. Hand wash in cold water if needed, hang to dry.
Product Features:
100% Cotton
Lush Decor Rosalie window panel set is the ideal curtain for your shabby chic, modern or farmhouse decor
Delicate, elegant window curtain panels with a lace edge border
Colors found in this rug include: Gray, Light Gray, Ivory, and Taupe
Storage Baskets
Storage baskets are great for farmhouse decor. You can use these suckers for anything. Warm fluffy blankets and extra throw pillows are commonly stored in baskets. Other things that can be stored in baskets – kids toys, papers to shred, dog toys. Storage baskets are super great because of how versatile they are. Good storage baskets are essential to giving you places to store things while still looking neat and tidy.
These storage baskets are made of 100% cotton rope and industrial strength poly / cotton thread to sew them together. These baskets are great for helping your home look warm and cozy while providing additional storage. Baskets like these are perfect for storing extra pillows and throw blankets. They are also great for storing kids toys out of the way. You can even use them as laundry hampers! These baskets come in multiple different sizes, so pick the one you need.
Product Features:
100% pure cotton rope.
Harmonious color matching comes with comfortable 2 handles, the elegant storage basket doubles as home decoration and storage container for your bedroom, bath, clothes laundry and kid's toy.
Pure cotton rope make it durable enough and recover its shape soon by filling items even if there are dents or fold when arriving. Easy to wash and clean keep your home neat and tidy.
16 x 14 x 14in ( H x W x L ) for more storage space. An ideal organizer present for friend housewarming, baby nursery, living room book, magazine, towel, blanket store and washing.
House Plants
House plants are HUGE in farmhouse decor. Adding houseplants to your home brings psychological and health benefits. The best part is – the plants don't even have to be real! If you have a black thumb like me, or do not have enough light for a plant you can use fake plants and get some of the same benefits as real plants. Now, fake plants will not provide the same air filtering properties. But they will still give you the psychological "I am near nature" benefits.
These adorable potted plants come in three sets of three, so you can pick different color combos to suit your decor. These plants look amazingly real. They come in their own little pot, so you do not have to worry about potting them. Just place them where you need a little bit of green in your life. They are about 4.3"X4.7″.
Product Features:
These artificial plants can add a touch of nature to your decor.
Thanks to made from advanced PE materials, these artificial topiaries are more life like than others in the market.
Great gift for who want to easily enjoy the beauty of nature.
4.3"X4.7" (W*H). (From top tip of the plant to the bottom of the pot). Set of 3.
Living Room Rug
Rugs are great in living rooms. With today's trend for open floor plans, a rug helps to define a space. It gives boundaries that we can see and use to understand what a space is for. Rugs can also help to ground a space, especially in open concept homes that are so common today. They tie all of the elements on them together so that people recognize them as a set. Rugs can also bring some color or texture into a room. Common rug trends these day are worn looking oriental rugs, patterned rugs, or rugs with natural fibers like jute.
Buffalo plaid is very common in farmhouse decor these days. A hint of buffalo plaid is great in a living room or entryway setting. This rug will help tie your living room furniture together, making the room feel more cohesive. This rug is 5′ x 7′. It can be vacuumed, spot cleaned, or washed in the washing machine on the gentle cycle. Hang dry or tumble dry on low heat. How many rugs can you stuff in the washing machine?! This feature alone makes the rug so nice to have with kids, pets, or people who tend to spill things. This rug is hand woven. It can be used inside or outdoors.
Product Features:
80% Cotton Buffalo Plaid Outdoor Rug
59"X78" (5'x7′)
Use vacuum cleaner, hand wash or by machine, gentle cycle, and in low tumble dryer setting to clean.
Can be used outdoor, kitchen, bathroom, bedroom, entryway, hallways and more
Rug is hand woven, minor difference may occur.
Task Lighting
Our homes rarely have enough lighting in them. People seem to go through life with one ceiling light in a room, and not realizing that having task lighting can be so important. Task lighting can allow you to do things like read or study at night without hurting your eyes. Having more lighting can also be used to highlight certain parts of the room or decorations. Have some amazing wall art? Add a light next to it or pointed at it to accent it. Bookshelves also look great with extra light accenting them.
This floor lamp is perfect for your farmhouse decor style living room. It has wire guard baskets for lampshades, which can be used to show off Edison style light bulbs. Wire guarded lamp shades like these are very common in rustic home decor. They highlight the functional nature of the light. Lamp has flexible arms that can bend to shine the light exactly where it's needed. Lamp is 65″ tall, uses max 60 Watt bulbs. Bulbs are all on the same switch – all bulbs turn on / off at the same time.
Product Features:
Modern black 3 light tree floor lamp.
Adjustable 180° up and down iron lamps with open shades to shine light anywhere.
The lamp is controlled for three bulbs on or off at the same time.
Standing lamp requires simple assembly.
Wall Decor
Wall decor is super important in farmhouse decor. Wall decor for your country style living room is usually either worn looking pieces, family pictures, or cute sayings. Common worn looking pieces include wall signs, wooden decorations or clocks with dials. Cute sayings usually note how people are grateful, how wonderful home is, or are directly farm related like advertising vegetables for sale.
This adorable wall sign would look great in a gallery wall or on it's own as a statement piece. The basic message and the wood border are very appropriate for a farmhouse style living room design. The message is a reminder to feel the happiness and peace that are in your home. This is the perfect piece of modern farmhouse living room wall decor for your house. This piece is 15.7″ x 11.8″. It has a hanger on the back to easily hang it on your wall.
Product Features:
Sawtooth hanger on the back. Easy to hang on wall, suitable for standing on shelf too.
Gift Idea: This is a great gift choice for your friends and families, or anyone who loves farmhouse or rustic style decor
Rustic Furniture Accents
Farm decor is all about the rustic look. Furniture pieces should give the impression of age. It's not unusual for farmhouse living room furniture to have worn edges or to appear slightly beaten up. Metal accents that appear handmade are also common in farmhouse furniture. Corners may have metal reinforcement, hinges may be visible, edges may be metal banded. Metal accents on farmhouse furniture usually look as if they had been hand smithed; the metal will appear slightly pocked and dented.
This coffee table is the perfect addition to your farmhouse style living room furniture. This square coffee table can also provide hidden storage with the dual sided lid. This gives you even more space to hide items you don't want being displayed! This piece of farmhouse decor for your living room is gently weathered to look older. It has dark metal brackets and hinges that are designed to look more rustic and stand out against the light wood. This piece is a great functional AND statement piece for your farmhouse style living room. Table is 36″ x 36″ x 18″. Storage areas inside are 32.5″ x 13.75″ x 11.25″. Assembly required, easy to follow instructions.
Product Features:
Table is made of pine veneers, pine wood and engineered wood.
Designed with crossbuck details, metal bracket accents and a 2 sided hinged lift top (with stay arms)
Measuring 36″ W x 36″ D x 18″ H. Door opening width: 32.50 inch
Assembly required. Easy to follow instructions, hardware and tools included.
Designed and manufactured by Ashley furniture industries
Comfortable Seating
A huge part of farmhouse living room decor is the appearance of comfort. Gone are the days of the living room that no one is allowed to sit in. Modern farmhouse style living rooms are all about welcoming in people for a sit and a chat. Chairs are plump and inviting, pillows are plentiful, and throw blankets are draped across furniture invitingly.
This swiveling arm chair is perfect for your farm style living room. The natural color is neutral to go with whatever color scheme you have in your living room. The fabric has a slight texture to the weave. This arm chair can swivel 360° making it easy to hold family conversations or spin to face an inviting fire in a stone fireplace. This chair is super comfortable and will quickly become your favorite chair in the house.
Product Features:
Polyester fabric
Dimensions: 28. 74″ D x 27. 50″ W x 27. 17″ H
Seat dimensions: 19. 75″ D x 19″ W x 18. 25″ H
Color: Natural; Leg finish: Black
Material: fabric; Leg material: iron
Extra Storage
Farmhouse decor is big on adding extra useable storage to a room. It turns storage into art pieces of their own. Common means of storing items in farmhouse decor include open shelves, buffets, lockers, baskets, antique looking card catalogs, and more. Any storage item that looks old can be used for storage in farmhouse decor. Sometimes the items used as storage pieces can be wildly untraditional, like using suitcases. So long as the piece looks antique, it will fit in with the farmhouse decor theme.
These shelves are great for adding more storage to your modern farmhouse family room. They are solid pine with industrial iron endcaps. These solid wood stained floating shelves are great for displaying pictures or plants. They also work great for books, small baskets and jars, or other small to medium sized objects that you want stored or displayed. These shelves are super easy to assemble and hang. They have a modern yet rustic look that is perfect for a modern living room. Since these shelves are made out of natural wood, each piece is unique with it's own sets of knots and wood grain.
Product Features:
100% imported solid pine with industrial iron end caps.
Set of two modern rustic shelves
Shelves are installed quickly and securely with our original Smart Bracket Mounting System. Position the wall-mounting bracket anywhere along the wall and once it's secure, slip your shelf into place for a professional-quality installation.
These modern, yet rustic shelves are beautifully crafted out of 100% imported wood to reveal the natural knots in the wood and stained to give the perfect aged look. They also include industrial iron end caps to add upscale taste and charisma to any room.
Weathered Accents
Farmhouse decor is all about using antique pieces for decor. In reality, many of the pieces are not actually antique but look it. They achieve this look by having a process known as distressing done to them. Distressing is the process of adding signs of wear and tear to an item that previously did not have it. Some common ways of distressing an item include slightly over-staining it and wiping the excess so that it appears 'grimy', sanding down corners a bit to reveal raw wood, or adding paint accents that look like wear patterns.
This stylish end table is a great accent piece for decorating a farmhouse living room. This piece can add additional "set stuff down" space next to a chair or couch. Tables like this are perfect for sitting down drinks, remotes, books or whatever else you want to have next to you while sitting. They can help encourage conversation and use of a room by making it more comfortable and human friendly. This table is carefully distressed to make it appear aged. Having aged and distressed pieces is important for a modern farmhouse family room. This table is made of MDF and pine wood. Since it has natural pine wood for the top shelf, there may be variations in the wood. Each piece is unique with it's own wood knots and grain pattern. This end table is 19″ X 19″ X 25″. It can hold up to 45 lbs. Assembly is quick and easy.
Size:24.8" Hit the ground running in 1979, COZAYH has quickly grown as one of the largest furniture manufacturers in the world. Over the course of history, we have served hundreds of millions of families in Europe, Asia and North America, and our dedication to affordable, stylish, long lasting furniture remains. You can find quality furniture designs ranging in style from Traditional to Modern and Contemporary, and we continue to roll out exciting new collections at least twice a year. Today, with our domestic offices open in Chicago and Las Vegas, we are building customer service and relationship to the next level.
Product Features:
High quality MDF pine wood structure with hand-crafted distressed finish. Natural wood grain / wood knot variations may apply.
Keep essential items within arm's reach without sacrificing aesthetics, this end table is a stylish sidekick for any sofa, bed, or little-used corner.
Compact size and versatile to use as an end table or nightstand. Style can fit all types of decors.
Easy and quick 3-step assembly with spot-on instructions. Estimated assembly time: 10 mins by one person.
19″ L x 19″ W x 25″ H
Can hold up to 45 lbs.
Cozy and Inviting Sitting
Cozy and inviting sitting in farmhouse living rooms is super important. Pillows, cushions and throw blankets are available for people to use. The fabrics chosen are extra soft and plush. Again, this is all done to make the area more cozy and inviting for people to sit and relax.
This throw blanket has over 8,000 reviews on Amazon and a high star rating. With that many reviews, you know that this is a quality throw blanket. These throws are lighter weight, perfect for a nap or decorating a chair to make it more inviting. They are made of 100% acrylic and come in multiple colors to fit your decor. These blankets are machine washable in cold on a gentle / delicate cycle. Tumble dry on low heat. Do not bleach or iron. These blankets may pull easily due to the weave of the fabric, they may not be the best choice if you have pets in the house.
Product Features:
100% Acrylic
Measures 50″ x 60″, weight 500g
Skillfully crafted design with geometric pattern and rolled fringed edges for a beautiful finish
Perfect for snuggling up on the couch, or as decorative throw. Great for a Christmas gift.
NOT SUITABLE FOR PETS USE
Machine wash colors separately wash in cold water, gentle cycle, tumble dry low, low iron.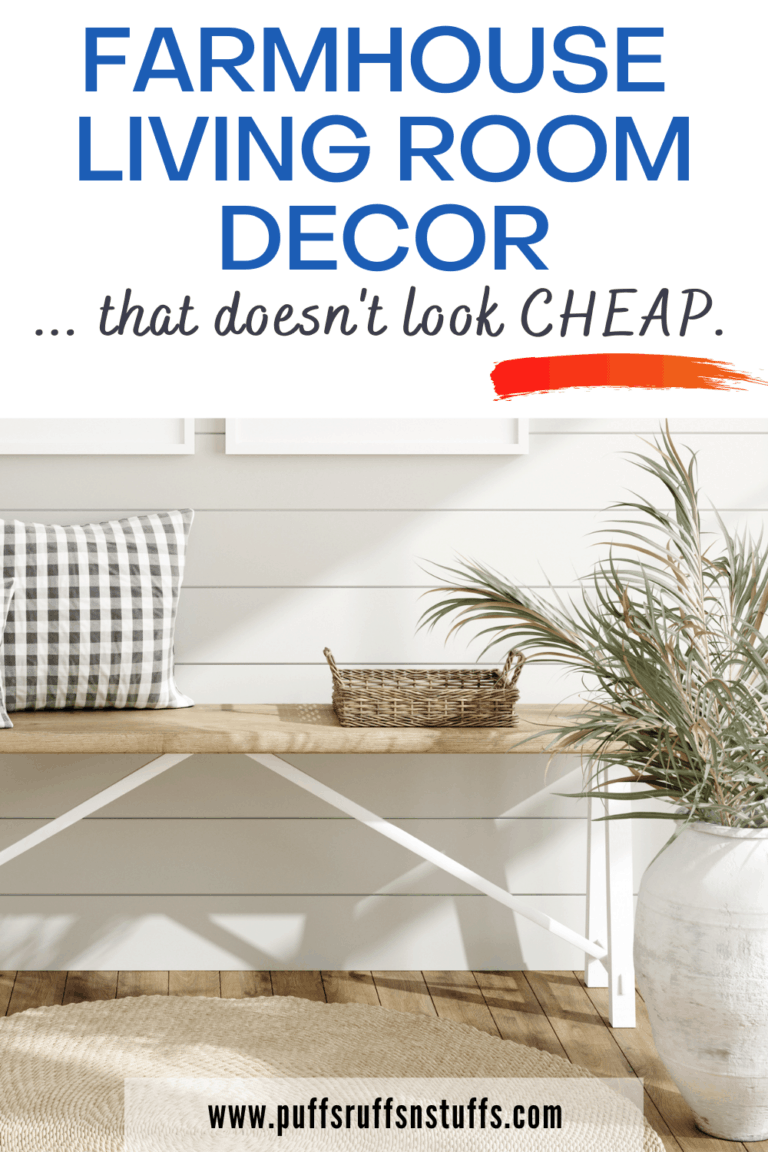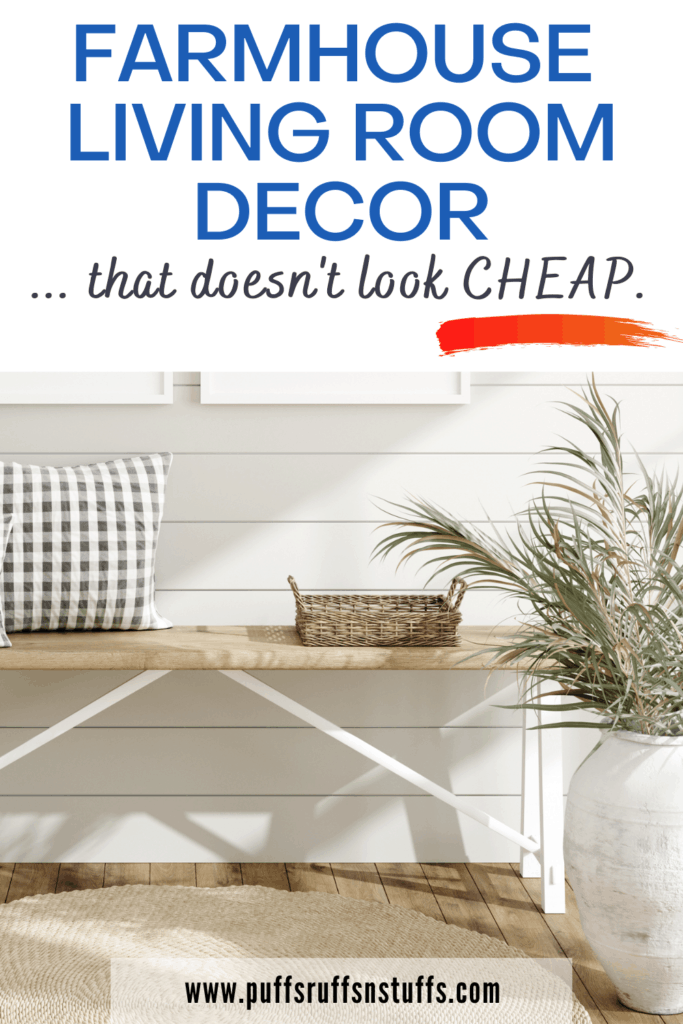 In summary
Remember – when decorating your modern farmhouse living room, you want aged pieces that invoke the feeling of a farmhouse. At the same time, you want the room useable by humans. The modern farmhouse living room is designed to encourage people to want to spend time in it and interact with other people. Gone are the days of a living room that no one uses. Make sure that you keep these two concepts in mind when you are decorating your modern farmhouse living room and you can't go wrong.
Related Posts