Are you looking for cheap farmhouse kitchen decor for your house? Do you dream of having the perfect farmhouse kitchen, complete with rugs, faucets, trivets and display pieces all in the farmhouse decor style? Look no further. In this post I'll show you some of the best pieces for obtaining that perfect country chic look in your kitchen. Keep reading, and transform your kitchen into the kitchen of your dreams.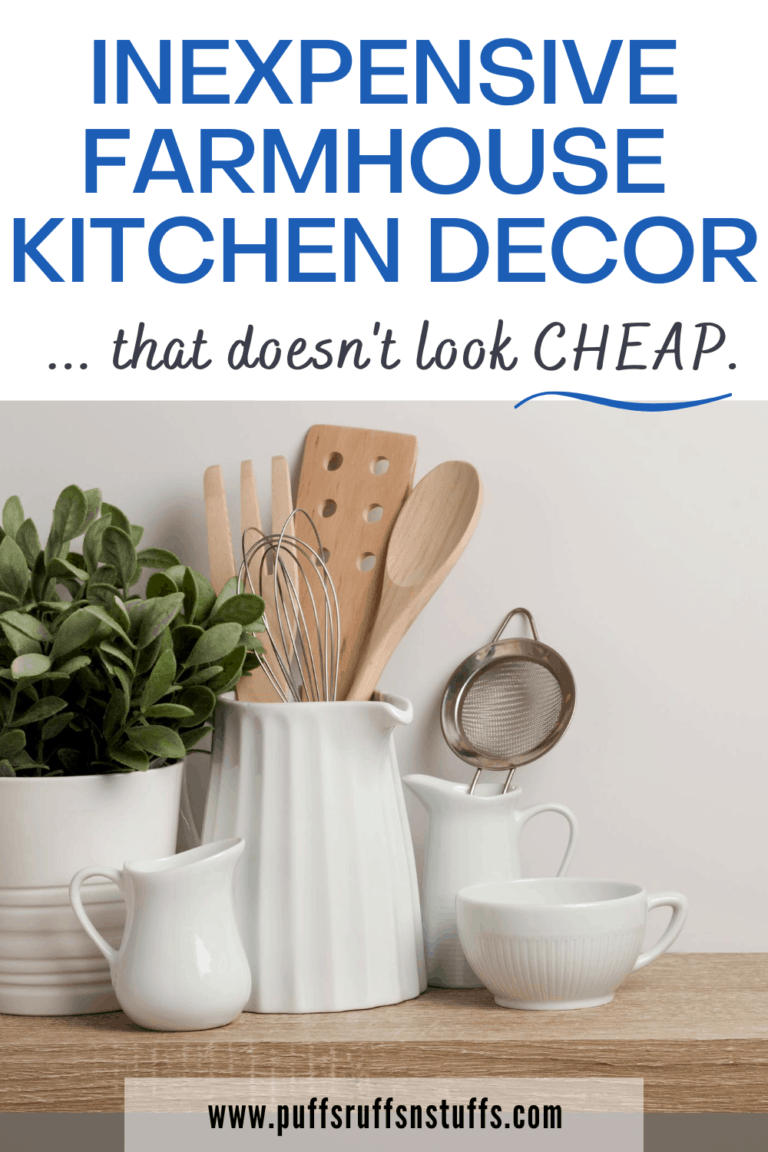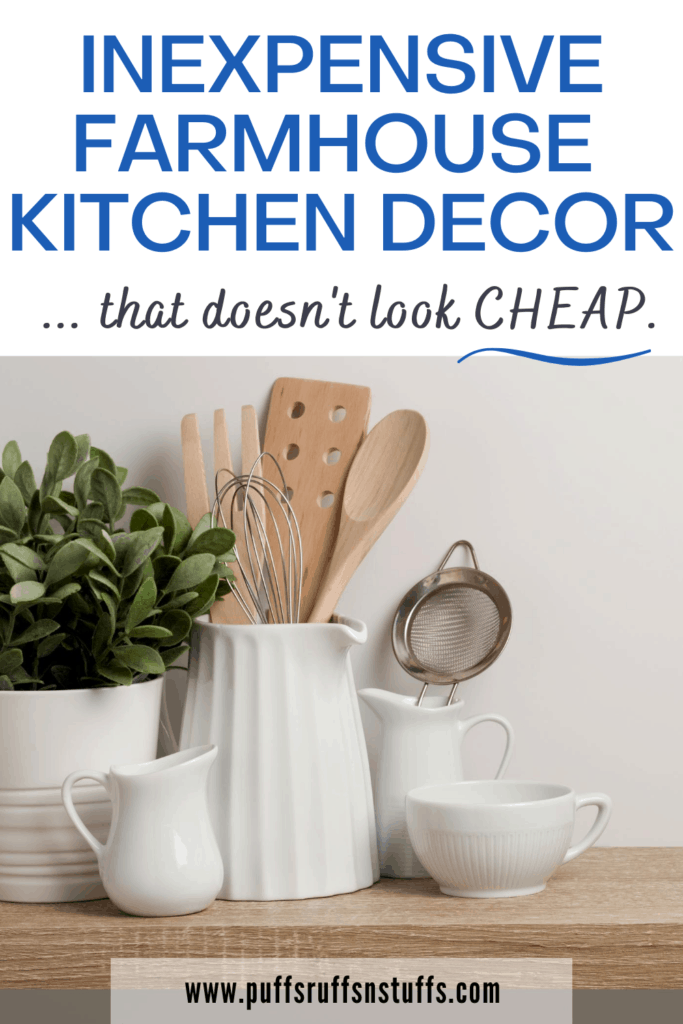 If you're in a hurry (or just curious!) –
✅ Check out these items on Amazon
Table of contents
Where can I find cheap farmhouse kitchen decor?
You can find cheap farmhouse kitchen decor both in person and all over the internet. It really just depends on what you consider 'cheap' and how much time you are willing to spend to find the perfect piece. For some people, it is totally worth the wait to spend less and score a great deal on some farmhouse wall decor. Other people might be willing to pay a bit more for farmhouse kitchen wall decor, but want it today. Another person might want to save even more money and DIY their farmhouse home decor.
Some of the best places to find cheap country kitchen decor pieces in person are: thrift stores, swap meets, yard sales, and Craigslist. These are all great sources for finding cheap country decorations for your home that you can view and interact with in person before committing to them.
Some great places to find cheap farmhouse kitchen decor for your kitchen online are: Amazon, Ebay, Target, and home decor sites when they are having a sale. Country decorations are super common at Hobby Lobby – but be sure to wait for a sale before picking up pieces there! They have sales quite frequently that are super helpful for saving money.
Floating Shelves
If you are looking for cheap farmhouse kitchen decor, check out these floating shelves. These shelves have a SUPER high rating on Amazon with tons of reviews, so you know they're quality. These simple wood floating shelves are great for adding storage to your kitchen wall. Open shelves like these are very popular these days. You can use shelves like these to style cute knickknacks, plants, plates or spices. These shelves are 17″, 13″ and 9″ respectively, then 4.7″ x 4.2″. They should be able to fit nicely under your upper cabinets if you wanted to add space there. Or you can hang them on an open wall and use them there. These floating shelves are easy to install and assemble. These floating shelves are made of actual torch finished solid wood with black powder coated metal brackets. They are great for adding more shelving space to your kitchen and giving you the farmhouse kitchen look that you want.
Product Features:
Wood and metal
Simple floating shelves – made of solid Paulownia wood (a hardwood) and powder coated metal brackets
Add more functional storage – Useful for adding additional shelving space to your kitchen
Rustic style – Features rustic style with torched finish wood and industrial metal brackets, decorative and great accent for your kitchen decor
Sturdy – Super sturdy with easy to follow instructions. Can support up to 40 lb.
Size – Large: 17×4.7×4.2 inch, Medium: 13×4.7×4.2 inch, Small: 9×4.7×4.2 inch
Non-Slip Thick Rugs
Adding rugs to your kitchen is a key piece of having a farmhouse kitchen. These rugs are great cheap farmhouse kitchen decor pieces. Kitchen floors are notoriously hard. Often made of tile, wood, laminate, vinyl or some other hard material. Treat your feet to a soft, cushioned rug in your kitchen. These rugs come in a multitude of colors. Generally farmhouse kitchen color schemes include grey, dusty blue, or dusty green. You can choose whatever color you want though.
These rugs are plush and thick so give you a padded spot to stand when making home cooked meals. They are made of soft microfiber chenille so feel super soft on your bare feet. Standing on hard floors is tiring and starts to hurt for a while. This can discourage you to want to cook. Make using your kitchen more comfortable and get a thick rug like this to stand on. These rugs are also non-slip. So when your floor gets wet or you are moving around quickly you know that the rug won't move under you.
These rugs are also machine washable. Because let's face it, kitchens get messy. Stuff gets dropped, the dog gets called in to eat it off the floor (or is that just me?). Make sure that any rugs you get for your farmhouse kitchen decor are machine washable. They will be getting messy and you shouldn't have to wash them by hand. Being able to just stuff them in the washing machine when they are messy then tumble dry without heat will help keep these rugs, and your kitchen, cleaner.
Product Features:
ULTRA THICK: This plush chenille carpet set is extra thick and bushy, quality up to 2000g/sm weight.
EXTRA ABSORBENT: These luxurious shag rugs can soak up water and keep your floor dry like a giant sponge, helping to keep you from slipping in water.
NON SKID: With slip-resistant SBE/Hot melt spray backing, the rugs are long lasting and more durable, while strongly holding the mats firmly in place for safety.
VIBRANT DECOR: The bold stripes pattern lends a beautiful rich decor element to your kitchen. Playful and neutral colors available in multiple sizes.
EASY CARE: Machine wash separately in cold water using mild detergent. Use only non-chlorine bleach when needed. Tumble dry on low setting and shake to restore fluff.
Mason Jar Soap Dispenser
Mason jars are very popular in farmhouse decor. You can see them in items like this soap dispenser, holders for items, or even used to actually can stuff. This mason jar comes with a stainless steel lid and dispenser. It is perfect for using with hand soap, dish soap, lotion, and other items that you would use a pump for. This dispenser comes with a Ball canning jar, and a silicone gasket to ensure a water tight seal between the jar and the lid. This cute kitchen accessory instantly elevates your hand soap to something cute and farm decor style. No more cheap plastic soap bottle for your hand soap!
Product Features:
16 oz Ball mason jar and black coated stainless steel dispenser top.
Suitable for soap, lotion and more.
304 Stainless Steel components prevent rust and corrosion!
Leak-proof FDA silicone gasket included!
Vintage LED Night Light
These two LED night lights are just adorable. If you are looking to add a touch of farmhouse decor to your kitchen, check out these nightlights. Not only are they dirt cheap farmhouse decor pieces – especially compared to replacing your main light fixtures! They are super functional as well. Walking into the kitchen for a drink in the middle of the night and turning on the bright lights is never fun. These plug in night lights look like little early 20th century Edison-style lights. They have a built-in light sensor, so they automatically turn on when it's dark, and off when it's light. They are very nostalgic looking with their industrial look, and did I mention how CUTE they are? They have a lifetime warranty, and the LED lights have an extra long life. Grab a set of these and put one in your kitchen for those late night drink runs, and another wherever else you need a night light.
Product Features:
Home Decor: Decorative hood with cage offers a rustic farmhouse decor designer look to complement your homes style and decor
LED Light : Long life, cool to the touch, and energy efficient LED means no bulbs to replace; provides 2200K warm white light
Cover Unsightly Outlets: Unique design allows the night light to be positioned to cover the entire outlet, or leave on outlet free for use
Safety Certified: This night light is UL listed and is backed by a limited lifetime
Automatic On/Off: Light sensing technology allows the night light to turn on at dusk and off at dawn automatically providing light only when needed
Single Lever Pull Down Kitchen Sink Faucet
Nothing says 'modern farmhouse decor' like a nice faucet. This style of kitchen faucet is super useful to have. The flexible nozzle allows you to use this faucet in ways that lots of other faucets just can't be used. Need to fill a super large pot or bucket that doesn't fit in your sink? Just move the nozzle over. Want to spray down some veggies to get the dirt off? Use the handy sprayer feature built into the faucet head. The faucet head can be moved a full 360 degrees, allowing you to reach any part of your sink.
This pull down sprayer kitchen faucet is made of solid brass. It uses ceramic disks to increase performance and ensure a drip-free experience. It includes 24 inch stainless steel supply lines for connecting to your existing water lines.
Product Features:
Black finish resists corrosion
High-arch Spout Design with 360-degree Rotation: offers more room for a variety of uses.
Dual Function Pull-Out Sprayer: aerated stream & powerful cleaning rinse.
Spout reach 9.2″, spout height 3.9″, overall height 16″, 1.98 lb NW and 6.83 lb GW.
Easy to install, 3/8″ H & C water hoses included, fits 3/8″ water supply system.
Dishwasher Magnet Clean Dirty Sign Indicator
This super cute dishwasher magnet is both functional and will add a touch of the rustic farmhouse look to your kitchen. This is an inexpensive farmhouse decor piece for your kitchen that can add a touch of style to an otherwise boring kitchen appliance. Let's face it – dishwashers are amazing, but they aren't exactly wonders of style. This cheap farmhouse sign for your dishwasher can easily help you track if the dishes are dirty or clean. At the same time, it is elevating the look of your boring dishwasher.
Product Features:
Farmhouse style dishwasher magnet comes with a super strong magnet, and an adhesive magnetic plate just in case your dishwasher isn't magnetic.
Wrapped in high quality PVC for ultra sturdiness with the ability to flex and bend while feeling solid in your hand!
Don't settle for ugly, our home kitchen dishwasher magnet looks great with any modern farmhouse kitchen decor.
"Clean" white indicator on one side, "Dirty" gray on the other. Simple to use!
Perfect for last minute ideas for home gadgets gift, simple & not over the top. A gift your mom, wife, grandparents, best friend would love!
Potholders Set in Gray
Another affordable farmhouse decor piece for your kitchen are potholders. Sure, potholders are unassuming and a 'basic' kitchen utensil – but what do yours say about your kitchen? Do they say "I bought these 10 years ago and couldn't be bothered keeping them clean much less buying new ones"? Or do your potholders say "I realize that even the little pieces contribute to the look of my kitchen, and potholders matter"? Don't be a person who overlooks the little details. Check out these potholders. Made of 100% cotton thread, these potholders are designed to protect both your hands and kitchen counters from hot pans. They are great for baking, cooking, and serving food. This specific set comes in three tones of gray, but there are other colors available too to match an kitchen decor color scheme.
Product Features:
100% cotton thread weave handcrafted potholders
Set includes 3 coasters.
7 inches diameter.
Heat resistant allowing you to safely remove dishes from the oven and hot pots from the stove
Woven with cotton strings using eco-friendly colorization.
Accented with hand sewing, each piece is unique.
Great hostess gift, birthday gift, Mother's Day Gift, Holiday Gift, Christmas Gift, housewarming and more
2 Tier Hanging Basket, Antique Black
This 2-Tier set of black baskets is great for adding storage to your kitchen. This general Store 2 Tier black hanging basket features a beautiful traditional design and allows you to maximize space in your kitchen. Great for storing food like onions, apples, oranges, and more. It is also really useful for storing things like napkins, towels, sponges, and more. Crafted from carbon structured steel for long-lasting beauty even under rigorous use. This is a great piece of farmhouse decor for cheap.
Product Features:
This 2 Tier basket allows you to maximize space in your kitchen
Measures 17-1/2 inch height
Handcrafted from iron for long-lasting beauty even under rigorous use
Features a timeless design that complements any décor
Wipe clean with soft damp cloth
Easy 1 Step Assembly. No tools needed.
Cotton Buffalo Plaid Check Rug
The country decor style is all about pattern, texture, and layering. Rugs like this one add two of those factors to your kitchen immediately – pattern and layering. This plaid rug would look perfect underneath one of the chenille rugs from above. It would bring in just a touch of plaid to your kitchen, helping to encourage the farm kitchen decor feel. This rug is 27.5″ x 43″ – just a little bit bigger than your standard rug. This makes it perfect for layering under another rug. These rugs are again machine washable, because kitchens get dirty.
Product Features:
Oversized 27.5" x 43" rug is 4" wider and 7" longer than commonly available 2'x3' rugs!
This Buffalo plaid rug is resistant to outdoor elements; Keeps its vibrant color
Soft and comfortable to touch; Thick and built to last a long time
Machine washable black and white rug
The Buffalo check rug is a fantastic choice for farmhouse decor or modern decor; For your porch, entryway, kitchen, bathroom, apartment, dorm room, living room, bedroom, and more
Tiered Cupcake Stand
Cupcake stands like this are super common in farmhouse decorating. If you are going for the country farmhouse decor style, you can't go wrong with adding one of these to your kitchen. Tiered serving stands like this are useful for displaying fruit, cupcakes, cookies, candles, plants, pretty much anything! These also work super great on a coffee bar holding coffee pods, tea packets, stirring sticks and other hot drink accessories. Even if you do not use this every day, they are super handy to have on hand for parties or holiday get-togethers. You could use it for storing appetizers or other snacks too!
This tiered cupcake stand has a distressed finish, and is made from durable wood. It has a sturdy metal handle to make it easy to move around. It is shipped flat, and easy to put together and take apart again for storing flat when you are done using it. This tray is 12.5″ at the bottom, and a total of 18″ tall with the handle.
Product Features:
Decorative tray is perfect for displaying seasonal decor and great for coffee bars, kitchen counter organizers or serving cupcakes.
Distressed wood finish gives this tiered tray a rustic look that adds warmth and style. We think it's the perfect farmhouse decor piece for the kitchen.
Two tier tray comes with a sturdy handle for easy transport. Makes a great serving tray for coffee or tea time, a produce basket, or useful cupcake holder.
Easy assembly with only a few short steps. It can even be disassembled quickly for convenient storage.
18-Piece White Kitchen Dinnerware Set for 6
So, you are all done gathering your farm decorations for your dream country style kitchen. But – you are still eating off paper plates. I know paper plates are tempting (yay no dishes!) but don't be that person. After working so hard for your dream country kitchen decor, you deserve to have beautiful plates that fit the style of your kitchen. Check out this plain white kitchen dinnerware set by Amazon Basics. It is a 18 piece set for serving 6 people. It includes dinner plates, salad plates, and bowls. This way you can host that dinner party that you always wanted to have and actually use proper plates to serve people. If you are serious about having country kitchen decor, be sure to get plates that fit the style of your new kitchen.
These white plates are made of AB grade porcelain. The are BPA free. They are microwave, oven (up to 572 degrees Farenheit), freezer and dishwasher safe.
Product Features:
18-piece round dinnerware set; service for 6
AB-grade porcelain; BPA-free; lightweight yet durable
Elegant white finish to complement existing kitchen decor
Safe in your microwave, oven, and freezer as well as dishwasher-safe
Includes 6 each: 10.5-inch dinner plate, 7.5-inch dessert plate, 5.5-inch bowl, porcelain, solid white
Plates can withstand a maximum temperature of 572 degrees (Fahrenheit)
Set includes: 6pcs * 10.5" dinner plate + 6pcs * 7.5" salad plates + 6pcs * 5.5" bowl.
In summary
There you have it, there are some of our top pics for rustic kitchen ideas on a budget. These country decor picks are all chosen to help you get the country kitchen of your dreams. Check them all out together here:
Related Posts