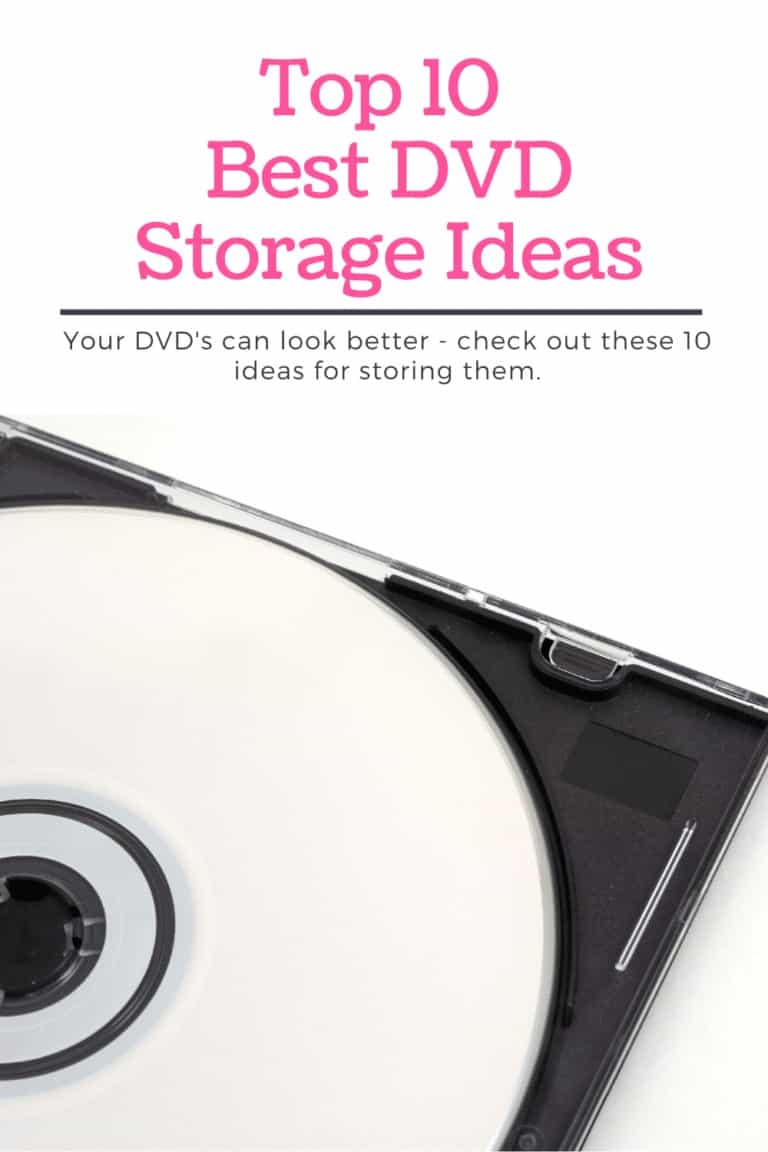 Are you tired of having DVD's cluttering up your house? Video game cases and DVD cases take up so much room compared to what's inside them. One little compact disk and some art does NOT need that much space. If you're tired of the wasted space and looking for a better media storage system, take a look at these 10 great ideas for the best DVD storage.
No matter what home design look you're going for, most everyone can agree that clutter is NOT attractive. Very few people set out to have a cluttered mess for a home. With that in mind, what does your media collection look like these days? Is your DVD collection a cluttered mess? Check out these options below to get your media collection under control and looking nice.
The first step in deciding which DVD Storage ideas will work for you is to decide what you want your area with the DVDs to look like. Do you want the DVDs to be a large presence in the room? Would you prefer to have your DVDs hidden away? How much organization do your DVDs need? Answering these questions will help you find a DVD storage solution that will work for you.
1 – One of my favorite DVD storage ideas are these Italian leather binders. They have a very classic and timeless look that can lend elegance to a room. These dvd storage binders also have acid free sheets inside the binder to store you DVD art. Acid free storage keeps the paper that the art is printed on from yellowing or deteriorating with age. These DVD storage binders come in multiple different sets from a single to six binders.
2 – This idea from Lindsay of using baskets to store DVD and video game disks is just genius. She has almost 100 DVD's in that basket! I love the touch of nature that a DVD storage basket brings into the room, as well as the texture. DVD storage baskets look like a really good solution. If you can't find a basket you like, or you need something sturdier you can always use boxes for your DVD storage. You can use plain cardboard boxes for DVD storage, or cover the box in a nice paper or fabric to make it less box-y. She is using DVD storage sleeves inside the baskets to conserve room.
3 – This storage cabinet with doors is another idea to store your DVD and video game disks. Sometimes just having a nice shelf or a cabinet to put something in and call it's home is all you need. Another nice thing about having a dvd cabinet is that you can use the top of it to display items.
4 – Megan's idea here to have DVD storage containers is a common trend. Megan is again using the dvd storage sleeves, like with the baskets above. Megan takes it a step farther and adds dividers to her plastic DVD storage containers so she can easily find DVD's by genre. Making the dividers is a snap with a Cricut, but you could certainly use scissors and paper to make yours. I like that her boxes to organize dvds are simple plastic containers. This makes them easy to find, easy to slide across surfaces, and easy to replace if they get too damaged. A plastic DVD storage box seems like a good idea, especially if you have kids.
5 – Then there's the tried and true, storing your DVDs and video games on a shelf. The aged wood and doors on this shelving set will give your DVD collection a classy bump. A DVD cabinet is a thing for a reason – they can look super nice in a room! The windows on this DVD cabinet let you see the DVD's inside, and you can place things on the top to display them too.
By the way – have you wall mounted your TV yet? We did this a while back and it made a HUGE difference to how nice our living room looks. I really recommend you get your TV mounted to the wall if possible. When you do, make sure you check out my posts about in wall cable management kits for hiding the TV cables. Wall mounted TV's with hidden cables are AMAZING.
6 – This method to store DVDs by Natalie at Neli Design is a great way to make sure that your disc art is still seen. She is placing her DVD's and the covers into DVD storage sleeves. Sometimes it's hard to tell what a DVD is if it's stored in a sleeve without the label. Be sure to check out her method to show the disk art.
7 – Ana White has a great method to store DVDs here. I really like the idea of this behind the door dvd shelf. If you're able to do some light woodworking this custom solution can store as many DVDs as you need and looks great. I like that you can store and organize your DVDs in this, then hide them all behind some closet doors. You could even modify this to provide cd storage, you would just have to adjust the size of the shelves.
8 – If you liked the Italian leather binders above, but are looking for something more budget (or kid) friendly, then this idea by KC is great. She's using a standard 3 ring binder to store her DVDs.
9 – If you're just tired of storing DVDs and ready to move on, check out Movies Anywhere. Movies Anywhere lets you redeem the codes inside your DVDs for digital copies that you can stream. Better yet, it connects to the Apple, Google, and Amazon video streaming services. So any movie you "own" you can stream on any one of these. You can even buy movies on one service and stream it on another. This is super great if you're feeling lazy and don't want to hunt down the DVD.
10 – Once you've converted all your DVD codes to Movies Anywhere (seriously, it's awesome), you can take your DVD collection and use it in this DIY by Cat.
These DVD storage ideas are amazing. They range from putting the DVD cases on display, to getting rid of them completely. In summary, these are the 10 best DVD storage ideas: